Sleep well. Stay protected.
It is our absolute priority to ensure the safety of our guests and staff, so we have introduced several extra measures to keep everyone protected.
Contactless experience. Smart room control.
Check-in and gain access to

the lift and

your room from your very own device.

The

n

use it

customise the temperature, adjust the lights, blinds, and even control the TV

. For more information click here.
Check out on your phone for a speedy departure

and head off

with just a tap.

If you have used a key card, simply drop it in the deposit boxes situated on every floor.

Hotel cleanliness.
Increased

frequency of

cleaning of

all

high-touch areas such as doors and lifts.
All in-room literature such as the

Bloc Magazines & Around the Bloc guides will be coated in

Viroblock which

actively inhibits viruses and kills bacteria upon contact.
Our

high-specification ventilation

system introduces fresh air

to your room

. This ensures that the air you are breathing is clean and fresh and not

recycled.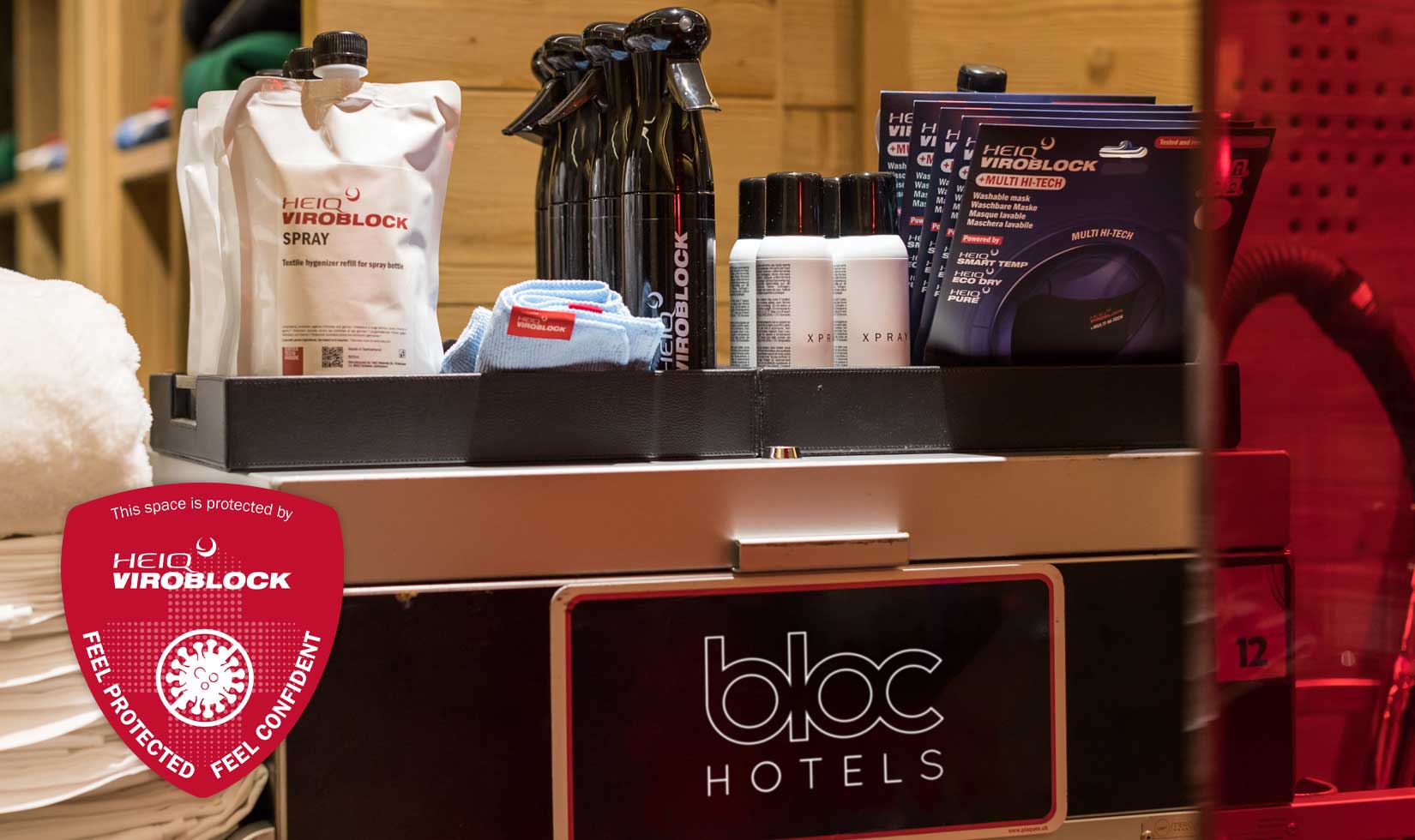 Keeping you safe.
H

and sanitiser stations throughout our hotel

s.
Facemasks and gloves are available for guests, we kindly ask guests to wear a facemask whilst in communal areas of the hotel.
We minimise contact at Reception with protective screens, keeping social distancing measures in place.
Room keys

are

sanitised with

HeiQ

technology

and are not handled by anyone other than you.
Our team will not enter your room during your stay

unless required and in this case, we would ask you to temporarily vacate the room prior to our team member entering
Keeping our team safe.
Employee temperature checks at the start of every shift.
We provide a

ppropriate PPE for all staff

to include HeiQ coated face masks and hand sanitiser

and full training is provided on COVID-19 specific health & safety measures.
Employee lateral flow testing in place.
If a staff member becomes unwell

pr

ocesses in place will mean that the individual and others affected will

follow self-isolation guidelines
If you have any questions or concerns about staying with us, send us a message - [email protected] and we'll get back to you as soon as possible.