Book Now
Back to school sale! Save 25% off
120+ school holiday dates.
Let's find your perfect room at the best price.
Price Promise. We price match our rooms in real-time against all major booking sites.
Sale ends Friday 15th Sep.
View all sale dates.
Next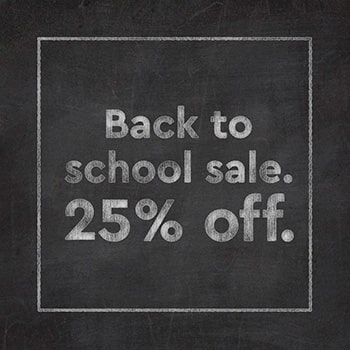 With summer almost over and the kids back at school, it is time to start planning your next getaway.
For a very limited time, we're offering 25% off all rooms booked during any school holiday for the next 12 months.
From half terms to Christmas, Easter and the summer holidays next year, in total, there are over 120 days currently on sale.
To claim this incredible discount, simply search to stay during any school holiday listed below and instantly save 25% on all rooms.
No promo code required.
Next
Autumn Half-Term.
Friday 20th October 2023 - Sunday 5th November 2023.
Christmas Break.
Friday 15th December 2023 - Sunday 7th January 2024.
Spring Half-Term.
Friday 9th February 2024 - Sunday 18th February 2024.
Next
Easter Holidays.
Friday 29th March 2024 - Sunday 14th April 2024.
Summer Half-Term.
Friday 24th May 2024 - Sunday 2nd June 2024.
Summer Holidays.
Friday 19th July 2024 - Sunday 1st September 2024.