Book Now
Book direct and save at least 10% + other exclusive Bloc perks.
10 Hollywood blockbuster films shot in Birmingham.
Tuesday, February 21, 2023
Birmingham is a dynamic city, with world-class filming locations and crew. To celebrate its decades of silver screen achievements, we have put together a list of the 10 best films made in Birmingham.
1. Jawbone (2017).
A former youth boxing champion, Jimmy McCabe (Johnny Harris), is a man in search of hope but looking in all the wrong places. When he hits rock bottom he turns to his childhood boxing club and the only family he has left: gym owner Bill corner man Eddie and promoter Joe.
Fight scenes for this brilliant, bruising, boxing movie (starring Ray Winstone and Ian McShane) were shot in buildings next to Bloc Jewellery Quarter.
2. Mission: Impossible - Dead Reckoning - Part One (2023).
Following the events of "Fallout," where Hunt and his IMF crew saved the world from a nuclear apocalypse amid a series of double-crosses, Cruise rejoins Simon Pegg, Rebecca Ferguson, and Ving Rhames for his latest impossible mission.
Cool to see #MissionImpossible7 being filmed in Birmingham. Sadly I did not see Tom Cruise on the way to catch my train! 🎥 pic.twitter.com/OZjxs3ehxz

— Caroline Gillett (@GalacticZoo) August 24, 2021
While details of the film are being kept secret, we do know they used the former John Lewis store in Grand Central as a filming location. Reports suggest it was decked out to double up as Abu Dhabi Airport.
3. Kingsman: The Golden Circle
(2017).
After the Kingsman's headquarters are destroyed and the world is held hostage, an allied spy organization in the United States is discovered. These two elite secret agencies band together to defeat a common enemy.
Kingsman 2 filming in Birmingham this week pic.twitter.com/LDlRbE5UO5

— Pinbro Films (@PinbroFilms) May 16, 2016
Eggsy's nail-biting car chase involving a black cab and three golden Jaguars was actually filmed on the streets of Birmingham (not London) including Colmore Row, Waterloo Street, Edmund Street, Margaret Street, and Cornwall Street.
4. Ready Player One (2018).
When the creator of a virtual reality called the OASIS dies, he makes a posthumous challenge to all OASIS users to find his Easter Egg, which will give the finder his fortune and control of his world.
In last 5 years Spielberg shot in Digbeth & Jewellery Quarter, Birmingham for Ready Player One... Said the location was perfect for.. *check notes* Columbus, Ohio in year 2045 pic.twitter.com/tIQdZwLI9K

— Joey Pineapples (@joeypineapples) May 19, 2020
Steven Spielberg decided that the Jewellery Quarter was the perfect filming location for some of its action scenes – the location was used as a stand-in for both London and the US. Telephone House on Newhall Street was also turned into a US high school.
5. Stan & Ollie (2018).
Laurel and Hardy, the world's most famous comedy duo, attempt to reignite their film careers as they embark on what becomes their swan song: a grueling theatre tour of post-war Britain.
While not technically Birmingham, the Black Country Museum in neighboring Dudley was used for many of the film's iconic scenes.
6. Brassed Off (1996).
The coal mine in a northern English village may be closing, which would also mean the end of the miners' brass band.
The plucky Yorkshire colliery band's triumphant final performance in the Royal Albert Hall was actually filmed inside the Birmingham Town Hall.
7. Clockwise (1986).
Brian Stimpson (John Clesse) is the headmaster of a comprehensive high school in England. He sets himself, his staff, and pupils very high standards. On the way to a conference at which he is to talk, all manner of disasters strike.
The classic John Cleese romp earned him the comedy award at the British Film Awards and was shot at King Edward's School, Edgbaston.
8. The Girl With All The Gifts (2016).
A scientist and a teacher living in a dystopian future embark on a journey of survival with a special young girl named Melanie.
This Glenn Close and Gemma Arterton film brought a zombie apocalypse to the centre of Birmingham. The action centred on Church Street and Colmore Row.
9. Felicia's Journey (1999).
Pregnant Felicia (Elaine Cassidy) has come to Birmingham to look for her boyfriend, who she knows works in a factory but not which one.
There, she meets an older caterer, Joseph (Bob Hoskins). However, he is a mysterious character who lies and steals from Felicia while putting on a friendly face. Eventually Felicia begins to stay with Joseph, but things turn from bad to worse when he puts more of his schemes into action.
This Bob Hoskins thriller, adapted from the award-winning novel, was shot on Station Street. A plaque even marks the spot outside the Electric Cinema.
10. I Bought A Vampire Motorcycle (1990).
When a motorbike gang kills an occultist, the evil spirit he was summoning inhabits a damaged bike. The bike is then bought and restored, but reveals its true nature when it tries to exact vengeance on the gang, and anyone else who gets in its way.
This low-budget, comedy horror stars Neil Morrisey who is reunited with his Boon co-star Michael Elphick was filmed across Birmingham, including Sparkbrook, Digbeth, and Selly Oak.
Bloc Jewellery Quarter.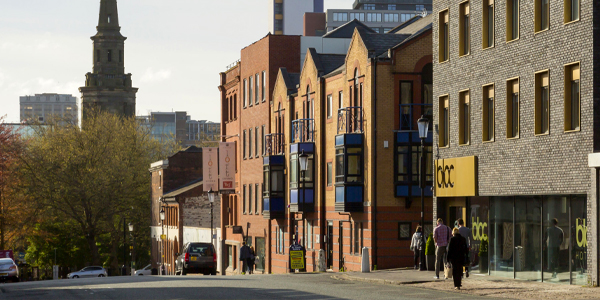 Bloc is a short-stay hotel designed to give you the very best of everything needed to sleep, shower and step out fresh into a new day, right in the heart of the action.
It's short-term staying designed around you. Lightspeed wifi, to keep you connected when you're on. High-powered showers, sound-proof walls and big, comfy beds for when you're not.
It's everything you need, and none of what you don't. No bells, no whistles, just pure rest and relaxation. And even better, it's right at the centre of the action, so you can step right out into it when morning comes, and step right back in when the day is done.
Book direct and save at least 10% + Free Late Check-out.