Book Now
Book direct and save at least 10% + other exclusive Bloc perks.
48 hours in Birmingham.
Tuesday, February 28, 2023
The editor of second-city listings site Grapevine Birmingham, Nick Byng, recently spent 48 hours in the birthplace of Bloc, reacquainting himself with its hidden gems.
Living in Worcester, it's a pretty easy commute to Brum. I've lived in The Jewellery Quarter, the worst parts of Wolverhampton & West Bromwich, and was born and raised in Harborne. So I know the pros and cons of big city living. I must admit, it is nice to have the best of both worlds these days, a historic medieval city with scenic river and hills, and the fast-paced forever changing face of the UK's second-largest city.
I recently had a few things I needed to do in Brum (some of which involved drinking!), so driving was not an option, and with train strikes affecting my commute, I decided on a two-day stay to enjoy the delights of Brum. I caught my train into the city centre, and took the tram into St Paul's Square, dropped my bag off at Bloc in the Jewellery Quarter, freshened up and headed out.
View this post on Instagram
My first port of call was 1000 Trades, where the atmosphere was busy, cosy, and the team were bathing in the success of their recent pop-up collab with MasterChef Professionals winner Daniel Lee. There was a real buzz about the place, no.. not the beehive on the top terrace… Pan Asian street food kool kids Canoodle had been lined up as the next food pop-up. 1000 Trades is also home to Jinxy the artist.
Next on my journey was The Church Inn, Hockley which I had been meaning to check out since new management took over in 2022.
It's a classic Victorian corner public house, full of wonderful features, in Birmingham's historic Jewellery Quarter. Upon entering, the cosy front bar will be your first port of call. A wide offering of beer, including cask ale from Everards of Leicestershire, wine and cocktails will have something for everyone. The pub menu is served seven days a week and after a quick snoop out back, I could see the restaurant was busy (the kitchen is headed up by Josh Hall and his Sous Chef Hayden Price formerly of The Wilderness and Opheem respectively).
View this post on Instagram
It was so beautiful, to sit there, with dimmed lights, a cool gathering of people wandering in and out, and fab tunes on the playlist, such as Dexy's Midnight Runners, The Specials and The Cure. The Mulled Cider was frick'n ace! So much so I sank more than I should and didn't feel the need to wander off anywhere else. After a chat with Ed the landlord, I picked up my weary bones, and with a big cheery red face embarked on the short journey back to Bloc.
Day 2.
After a sneaky lie in, I collected my thoughts and things, and strolled fifty metres to The Borrow Shop where I ordered my first, and only, coffee of the day. The Borrow Shop sells itself as a Library of things, Vegan coffee house and shop for Eco-friendly gifts & homewares.
The candles and art prints looked sweet and the coffee was superb, so I promised to return. It's well worth popping in, a nice mix of people make this place, and anyone staying in Bloc, will be able to utilise this cool little joint!
View this post on Instagram
As I was now set up for the morning, I decided to have a little mooch around the Jewellery Quarter. First port of call was Branston Street to photograph the car park which once housed dance music superclub Wobble (at The Venue). The building, sadly long since demolished, holds many happy memories for clubbers of the 90s.
The Electric Cinema is the oldest working cinema in the UK. With two digital screens, showing a mixture of the latest quality mainstream, independent, foreign and classic films, comfy sofas, snacks and a licenced bar. The Electric Cinema opened on the 27th of December 1909. It was Birmingham's first cinema. Unfortunately, its doors closed in March 2020 because of Covid-19.
However, thanks to the new owner, Kevin Markwick, who also owns the 104-year-old award-winning Uckfield Picture House cinema in East Sussex, The Electric reopened in 2021.
View this post on Instagram
I'd highly recommend becoming a paid member to enjoy year-round benefits including complimentary film tickets, no booking fees, exclusive member events and discounts. They have exciting plans moving forward.
Food was very much in need at this point, so a chance to review Crazy Pedro's Pizza in The Custard Factory nearby was a welcome break. Crazy Pedro's is a Manchester-based Pizza brand specialising in late-night party pizza vibes. As I sat there, I could not help reminisce again, about the many DJs and musicians I was lucky enough to see at the Medicine Bar. Brum lost an institution when the Medicine Bar closed, but kudos to Crazy Pedro's for re-imagining this wicked space and bringing their whacky tasty filled pizzas to the second city. The staff are so friendly and if you sit up top, you can look out towards the city centre or inward into the Custard Factory itself. A great date night spot or somewhere to have a stress-free time with mates until 3 am seven days a week.
View this post on Instagram
I chose the Fried Chicken & Waffle, which was blessed with fried chicken, smoked bacon, maple syrup, and broken pieces of waffle – sweet and delicious!
My final stop was Hockley Social Club. Housed in a former 10,000-square-foot printing factory, it is effectively Digbeth Dining Club in a larger covered area with more scope to entertain and build a solid scene of street food, DJs and live music.
A relaxed dining food hall, bar, event space, coffee shop, late-night hangout and record store that's open to anyone and everyone four days a week. There's live music every Friday, classical music with the CBSO, monthly comedy nights, and a Sunday morning lifestyle market. With three permanent kitchens in situ, plus a rotating monthly resident, HSC has one of the most exciting and diverse offerings in the Midlands under one roof; you can even swing by and grab a takeaway.
View this post on Instagram
Before I left, I had a quick mooch around Cafe Artum record shop, and boy are there some titles here. It's a mini scene all under one roof and so easy to get to from St Paul's tram stop. Just a fab way to end my 48 hours in Birmingham before setting back by tram, and train, to Worcester. And not a single ounce of interest to attend the Christmas markets which seem to dominate the city centre around this time each year – there is so much more to Brum, you just have to take the time to find it.
For more Birmingham listings info visit: grapevinebirmingham.com
Bloc Jewellery Quarter.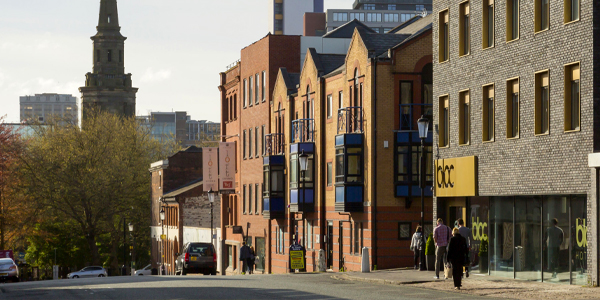 Bloc is a short-stay hotel designed to give you the very best of everything needed to sleep, shower and step out fresh into a new day, right in the heart of the action.
It's short-term staying designed around you. Lightspeed wifi, to keep you connected when you're on. High-powered showers, sound-proof walls and big, comfy beds for when you're not.
It's everything you need, and none of what you don't. No bells, no whistles, just pure rest and relaxation. And even better, it's right at the centre of the action, so you can step right out into it when morning comes, and step right back in when the day is done.
Book direct and save at least 10% + Free Late Check-out.