Book Now
Let's find your perfect room at the best price.
Price Promise. We price match our rooms in real-time against all major booking sites.
5 Reasons Bloc Hotel is the best hotel near Utilita Arena Birmingham.
Wednesday, May 10, 2023
If you've got tickets for a show at the Utilita Arena Birmingham, you want to make sure you have a comfortable and convenient place to stay. That's where the Bloc Hotel comes in!
Here are five reasons why the Bloc Hotel is the best hotel near the Utilita Arena Birmingham:
Location: The Bloc Hotel is located just a stone's throw away from the Utilita Arena. You can easily walk to the arena from the hotel, which means you don't have to worry about transportation or parking. Plus, the hotel is in the heart of the city, so you'll be close to other attractions and amenities too.


Affordable: The Bloc Hotel offers affordable rates without sacrificing comfort or convenience. You'll get a comfortable and stylish room with all the amenities you need at a fraction of the price of other hotels in the area. If you book direct, with VIP+ you'll also get free early check in and free late check out!


Smart design: The Bloc Hotel is designed with the modern traveller in mind. Our rooms are compact, but they're also smartly designed to maximize space and comfort. From our monsoon drench showers to our large comfortable bed and high-tech Smart Room Control.


Technology: Speaking of high-tech, the Bloc Hotel is equipped with all the latest technology. You'll have access to high-speed Wi-Fi and a Smart TV you can cast the latest TV shows and movies on-demand from your phone. You can also control everything in your room with your smartphone or tablet, making your stay even more convenient.


Sustainability: Bloc Hotel is committed to sustainability and reducing its environmental impact. The hotel uses energy-efficient lighting, water-saving fixtures, and eco-friendly cleaning products. The hotel's innovative compact design means less energy is needed to heat and cool the rooms.
Overall, Bloc Hotel is the perfect choice for anyone visiting the Utilita Arena in Birmingham. With its convenient location, affordable rates, smart design, advanced technology, and commitment to sustainability, the Bloc Hotel offers everything you need for a comfortable and enjoyable stay.
Book your room today and experience the best hotel near the Utilita Arena Birmingham!
Bloc Jewellery Quarter.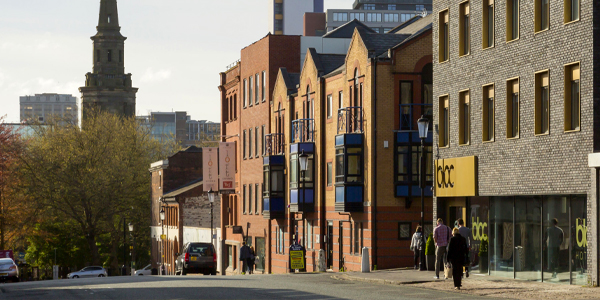 Bloc is a short-stay hotel designed to give you the very best of everything needed to sleep, shower and step out fresh into a new day, right in the heart of the action.
It's short-term staying designed around you. Lightspeed wifi, to keep you connected when you're on. High-powered showers, sound-proof walls and big, comfy beds for when you're not.
It's everything you need, and none of what you don't. No bells, no whistles, just pure rest and relaxation. And even better, it's right at the centre of the action, so you can step right out into it when morning comes, and step right back in when the day is done.
Book direct and save at least 10% + Free Late Check-out.