Whale of the Skies
Thursday, July 19, 2018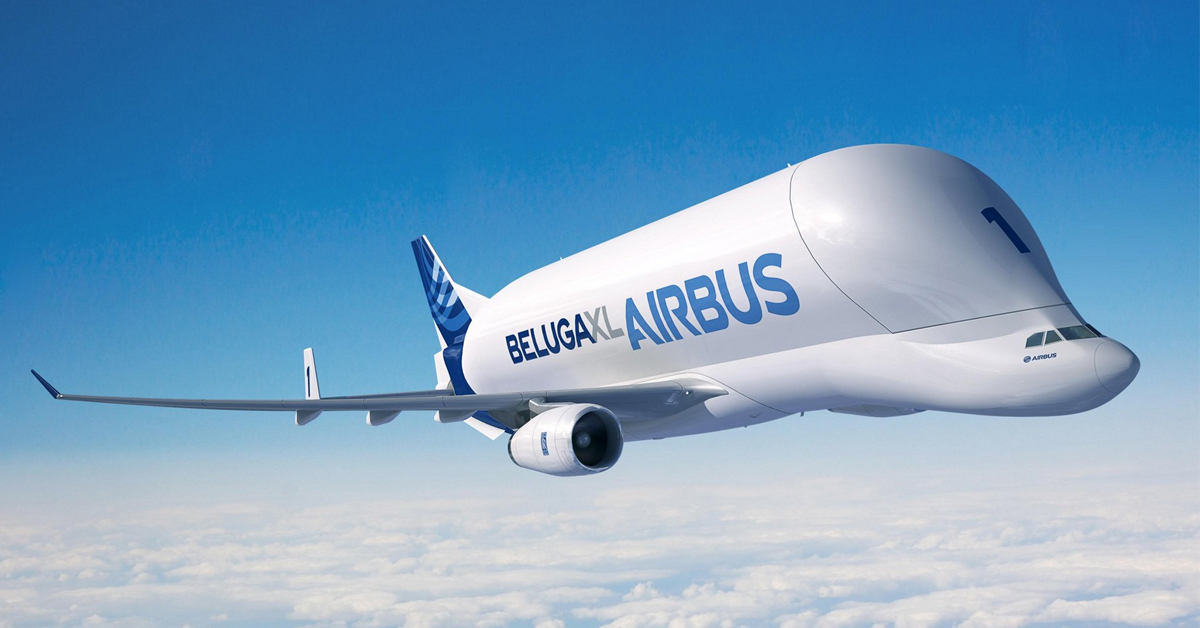 In January, the first structurally complete airframe for the new BelugaXL rolled out from its assembly hangar in Toulouse, France.
The BelugaXL is one of the most voluminous aircraft in existence, and everything about it speaks to that fact. With a bulging upper forward fuselage and enormous cargo area, the BelugaXL is hardly recognizable as the outsized airlifter version of the Airbus A330-200 jetliner from which it is derived.
"We have the A330 as a foundation," said Bertrand George, head of the BelugaXL programme, "but many changes have been successfully designed, introduced into the aircraft and tested. Transforming an existing product into a super transporter is not a simple task."
This initial BelugaXL is expected to be flying by mid-2018. "The whole team is really looking forward to seeing its first flight and, of course, its smiling livery," said George, referring to the supersized smile that will be painted across the 'face' of the transporter, the winning design of six options presented to Airbus employees for a vote in early 2017.
Whale, whale, whale… That's a lovely day for a maiden flight, don't you think? #StayTuned #BelugaXL #FIA18 pic.twitter.com/BGxIQRcrfG

— Airbus (@Airbus) July 19, 2018
Before that can happen, the aircraft will undergo a months-long battery of tests after installation of its two jet engines, ensuring each of the BelugaXL's systems function as intended. All the while, said George, "We will perform bench tests in Toulouse and Hamburg, Germany – testing our systems on flight simulators and in laboratories" as well as using hydraulic jacks to simulate flight loads on full-scale copies of specific joints between the new upper bubble and A330's lower fuselage.
"The data from these tests will be used to clear the aircraft for flight and, later on, to attain type certification," the official pronouncement of the aircraft's safety and airworthiness, said George.
While the first structurally complete BelugaXL moves into its testing phase, the second A330 to be converted into a BelugaXL arrived on schedule in Toulouse to begin its integration process. George noted that with lessons learned from the production of the first transporter, the assembly time for the second is expected to be about two months shorter.
The BelugaXL programme was launched in November 2014 to address Airbus' increasing transport requirements. At six metres longer, one metre wider and with a payload lifting capacity six tonnes greater than the BelugaST transporter version it is replacing, the BelugaXL will be able to transport both wings of the A350 XWB jetliner at once, instead of the single wing currently accommodated on the BelugaST. All told, five BelugaXLs are scheduled to enter service for Airbus' airlift needs.
BLOC Hotels London Gatwick
They say it's better to travel than to arrive. We think both are important. With BLOC you won't have far to travel at all. We're waiting to welcome you just steps from Gatwick South Terminal Departures. Any closer and we'd be on the runway!
Our 245 room hotel offers 'Sleep Haven Zones', family rooms, a business floor and Presidential Suite. Park at the terminal through one of our exclusive deals; check your bags with your airline and take your overnight bag to the room; send an email with free WiFi; relax on your sumptuous king-sized bed, watching one of our HD LED TVs; freshen up in a monsoon-drench shower wet room and seamlessly check out to arrive at your gate in a great mood to enjoy your holiday or business trip. So much more for less.