Book Now
Book direct and save at least 10% + other exclusive Bloc perks.
Brum's Best Burgers.
Monday, May 10, 2021
Birmingham's culinary finesse has traveled a long way since Cliff Richard's Brumburger Duet with Debbie Watling in 1973 on Take Me High. Possibly the only city in the world to have an album charting burger song written about it (two songs to be precise with the Brumburger Finale).
Brum Tings really started to hot up in 2012 with the inconspicuous launch of Digbeth Dining Club. This offered local street food vendors the chance to strut their stuff to a cool crowd of foodies and musos giving rise to several burger vendors who would go on to open their own permanent premises.
With all this in mind, let's take a look at some of Birmingham's finest burgers today: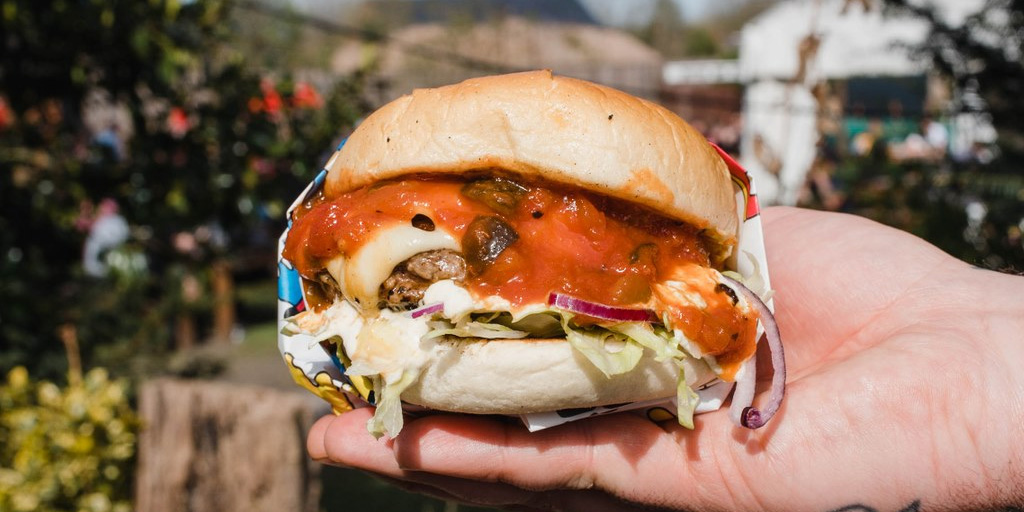 Original Patty Men. Original Patty Men, started off life in Digbeth Dining Club as a street food vendor. After winning a British Street Food Award for 'Best Burger 2014' the next step was a permanent home for their beautiful burgers to bloom. Inside is a bare, minimal interior, serving burgers made with aged beef patty, inside a yoghurt and buttermilk bun, unless of course you opt for the equally delicious vegetarian option. You can choose from the classic Cheese Burger to a Bacon Layered Cheese Burger, or a Maple Coated Bacon Burger, Chicken Burger and of course the vegetarian option 'Po boy Style Breaded Mushroom Burger'. All the meat is free-range.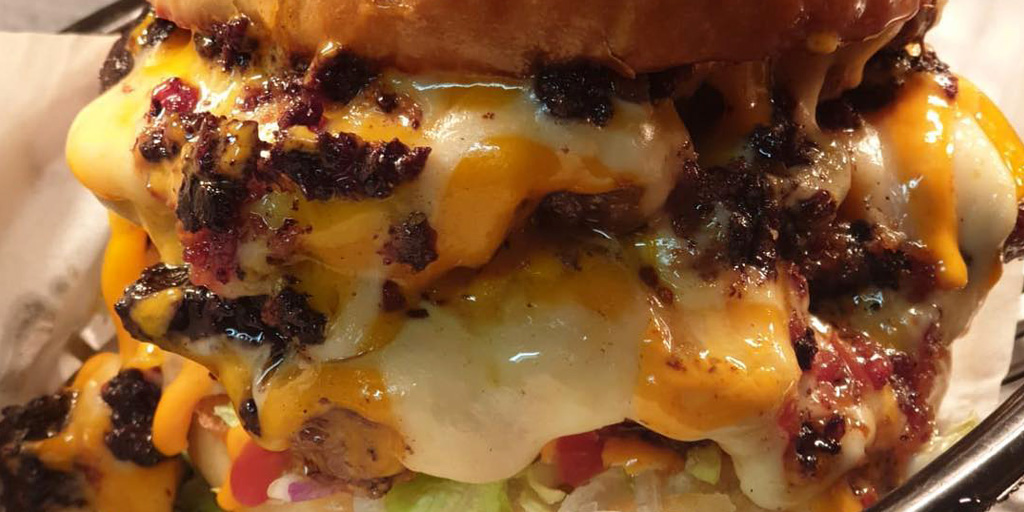 The Meat Shack. EST 2012 The Meat Shack were big boys at Digbeth Dining Club and took the same route as OPM by setting up a permanent home in the city. As with OPM and Bonehead these folk also serve some fine craft ales on tap and by the can/bottle. Diners will be greeted with a cool modern burger joint which uses well-aged grass-fed beef, hand 'smashed', creating the best, crispy caramelisation of beefiness on the outside, leaving all the dripping filthy goodness on the inside (there's a Deep Fried Halloumi Cheese and Mushroom Duxelle veggie option). For those in the know, there are a few secret specials to try… and for the grockles, there's the Hell Shack (aged beef patty, fresh green chilli relish, Rib Man Holy F*ck Sauce, American cheese, ketchup, mustard, onion and lettuce) and the RnB (aged beef patty, red Leicester cheese, Dutch gouda cheese, candy bacon crumb, black pudding, gochujang mayo and ketchup) are to die for.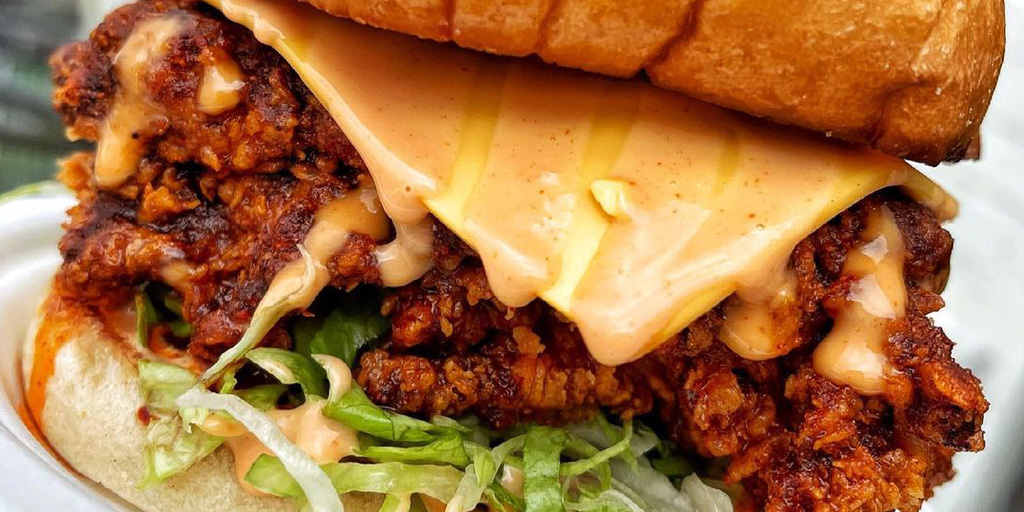 Bonehead. Bonehead is a specialist gourmet fried chicken joint just off John Bright Street. Decor is cool and funky, with trendy craft ales and a menu which is short and sweet, and mainly caters for chicken lovers – wings, legs, thighs, and burgers. Bonehead offer free range options and they also do a chickpea veggie burger. The 'Hothead sauce' are a force to be reckoned with. Try the Hothead Burger (fried chicken thigh in Nashville hot seasoning, lettuce, comeback sauce and gherkins) or the Buffalo Soldier (fried chicken thigh in buffalo hot pepper sauce, lettuce, gherkins and blue cheese sauce).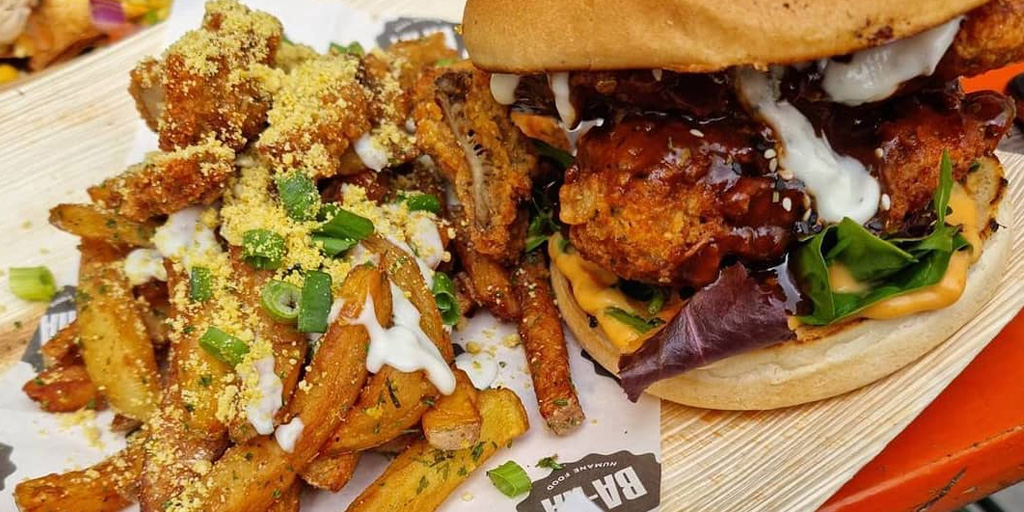 BA-HA Vegan. Founded in 2017, BA-HA provides delicious food that's both healthy and aligned with vegan. BA-HA source all organic produce locally from farmers and local community businesses, creating products with 100% love to provide the experience of homemade goodness. BA-HA started as a pop up/ kitchen Takeover in 2018 and now reside within Sobremesa Bar in The Custard Factory Digbeth. Check out their infamous Buffalo King Kentucky Burger.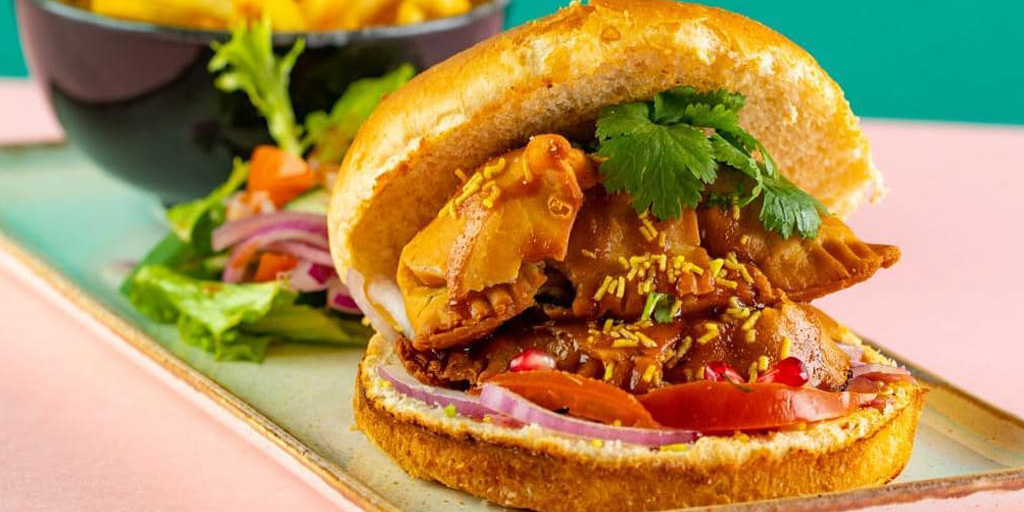 Indico Mailbox. Indico Mailbox brings the bustle, spectacular artistry, and vibrant Punjabi flavours to Brum. Indico is a boutique fine-casual Indian Street food restaurant & Cocktail bar. Indico's menu consists of a great variety of Indian street food dishes and some superb specials such as their Paaji Burgers. These North Indian inspired burgers come in the form of a Crunchy Pandey (Crunchy, Gully-style pea and potato samosa crushed into a soft brioche bun) and a Dirty Malai (24 hour paprika, fenugreek, Greek yoghurt, garlic and spices marinated chicken breast cooked it in a clay oven, finished with a cardamom-scented Malai cream sauce, tossed with salad leaves, pomegranate, rose yoghurt, and roasted onions. Open 7 days a week.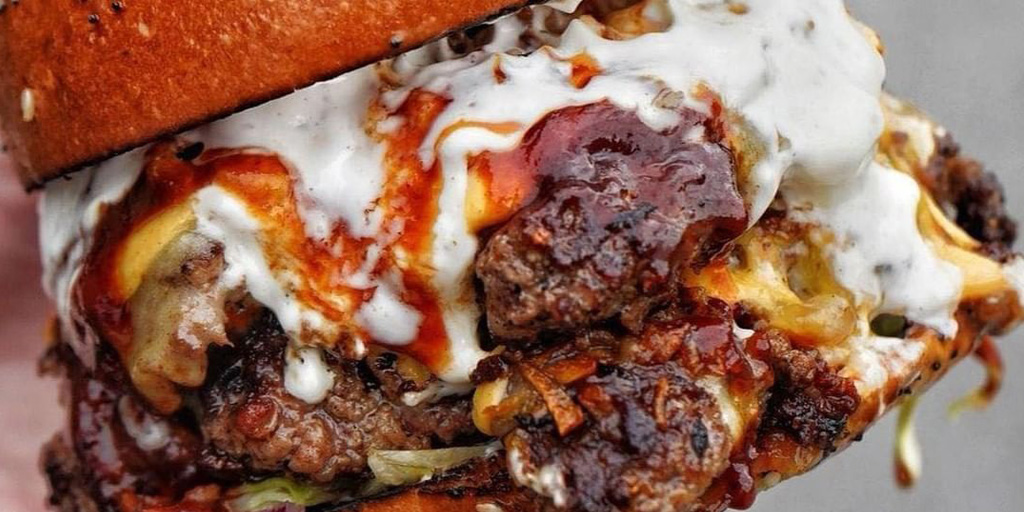 Digbeth Dining Club & Hockley Social. No article on the best burgers in Brum would be anywhere near complete without a big fat mention of Digbeth Dining Club. DDC started out life in 2012 as a street food event that was designed to pull together some of the best street food vendors in the region. It has since risen from strength to strength and is now a multi award-winning weekly carnival of food, that has placed Birmingham firmly on the alternative food map and even draws in food stalls from other parts of the UK. Their burger prowess is unstoppable helping the likes of Original Patty Men (winners of 'Best Burger' 2014 at the British Street Food Award), The Flying Cows (Britain's Best Burger winners at the 2017 British Street Food Awards), Meat Shack and Indian Streatery rise to flame. There are too many DDC burger vendors to mention, but present patty highlights must surely include www.onlyjerkin.com, www.facebook.com/LowNSlowStreetFood, www.dicks-smokehouse.com & www.facebook.com/thepattyfreaks. Whilst they remain in Digbeth you can now also find them at their other permanent residence at Hockely Social Club in The Jewellery Quarter.
Article courtesy of Grapevine Birmingham.
Birmingham is open. So are we.
Birmingham, the birthplace of Bloc is coming back to life. After the trying times of Covid, the city is re-opening. And now so are we.
This summer, Britain's second city is fit to burst with food, music, arts and culture. And to celebrate the return of fun to Brum, we'd like you to come and sample the city with 10% off all stays at Bloc Jewellery Quarter using discount code 'BACK10'.
Because we're not the destination, we're just right in the middle of it. And when you stay with us, so are you.