Bloc Hotel expansion plans to provide for a total of 473 bedrooms within Gatwick Airport South Terminal
Thursday, November 28, 2019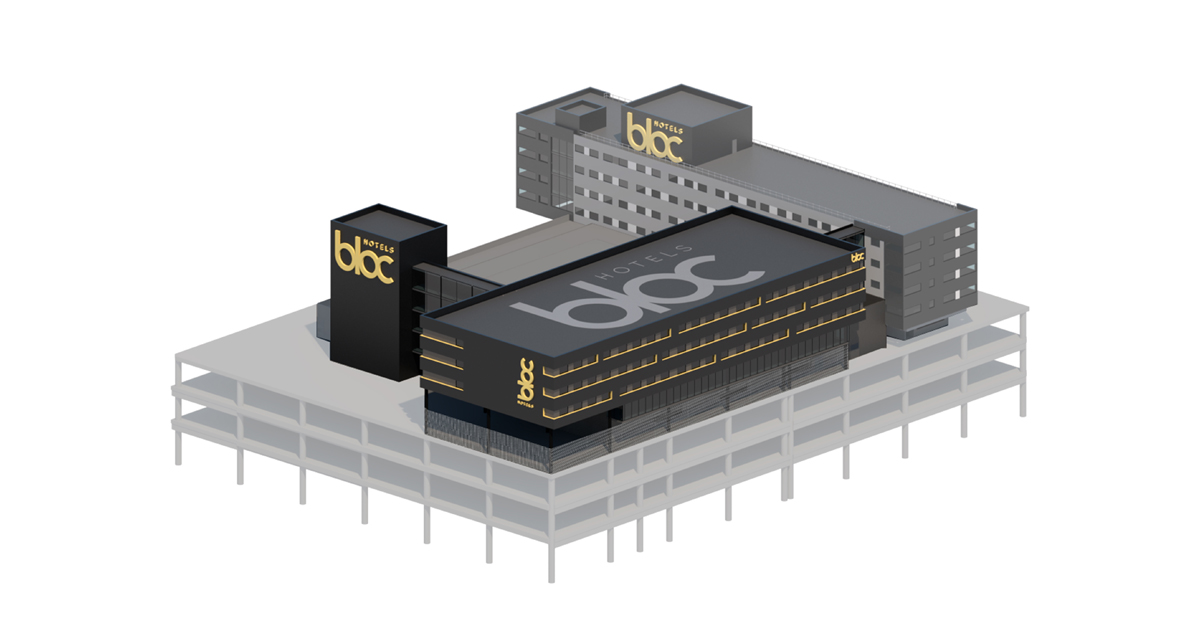 Gatwick Airport will gain an iconic hotel extension in the heart of the terminal building, as part of plans submitted today.
Bloc's landmark four-storey development will add 231 new bedrooms to its existing 245-bedroom hotel in Gatwick South Terminal, a few short steps from security.
Since opening in 2014, Bloc Gatwick has been operating at more than 90% occupancy and the new hotel wing will create even more of the rooms loved by smart travellers.
The high-spec hotel features superfast wifi and sound-proofed bedrooms fitted with the latest smart technology.
Bloc's extension will provide a mix of accommodation suited for all, from families to business travellers and will deliver the same high-quality rooms at affordable prices.
The design will create a relaxed but modern environment and will almost double the capacity of Bloc's flagship hotel, increasing bedroom count to 473.
Its aluminium and glass design will appear to float above its base and windows of the new wing will offer stunning runway views. The roof-top extension will be built above the South Terminal and linked to the existing Bloc Gatwick by a passenger bridge.
Rob Morgan, Managing Director at Bloc Hotel Group, said; "Gatwick Airport has been home to Bloc Hotels for five years and we are delighted to be part of the fabric of this fabulous travel hub. There is unprecedented demand from passengers wanting to stay with us."
"It's fantastic to work with Gatwick and give even more guests a direct, easy connection to departures. We pride ourselves on giving guests everything they need to sleep, shower and step out fresh and ready for their flight."
Emma Rees, Head of Property, Gatwick Airport, said: "Bloc's entrance sits just a few metres from South Terminal's Departures, so extending the hotel will provide even more of our passengers with super-fast, convenient access to our terminals. The hotel is a fantastic option for travellers with an early flight and many of the new rooms will also offer guests spectacular views of the busiest single runway in the world."
The Bloc Gatwick extension is expected to commence operations in 2021.
Bloc Gatwick
They say it's better to travel than to arrive. We think both are important. With BLOC you won't have far to travel at all. We're waiting to welcome you just steps from Gatwick South Terminal Departures. Any closer and we'd be on the runway!
Our 245 room hotel offers 'Sleep Haven Zones', family rooms, a business floor and Presidential Suite. Park at the terminal through one of our exclusive deals; check your bags with your airline and take your overnight bag to the room; send an email with free WiFi; relax on your sumptuous king-sized bed, watching one of our HD LED TVs; freshen up in a monsoon-drench shower wet room and seamlessly check out to arrive at your gate in a great mood to enjoy your holiday or business trip. So much more for less.