Book Now
Book direct and save at least 10% + other exclusive Bloc perks.
Keeping you Covid-safe.
Monday, March 29, 2021
At Bloc, we take your safety very seriously. To safeguard our guests and the Bloc team we have introduced a number of measures including contactless check-in through your mobile device and treating surfaces with HeiQ Viroblock.
While the unpredictability of the past year has taught us the importance of resilience, at Bloc Hotels, we feel collectively positive about the year ahead.
And to ensure the best possible experience when we are able to re-open, the Bloc team have busy behind the scenes.
While we had planned a major room refurbishment to take place at our Jewellery Quarter hotel, with no guests to work around, the team has been able to complete the work without getting under your feet.
Our smart room controls have also had an upgrade. You can now access them from your smartphone, with the added ability to check-in and even unlock your room from the palm of your hand. All without the need to download or install any app.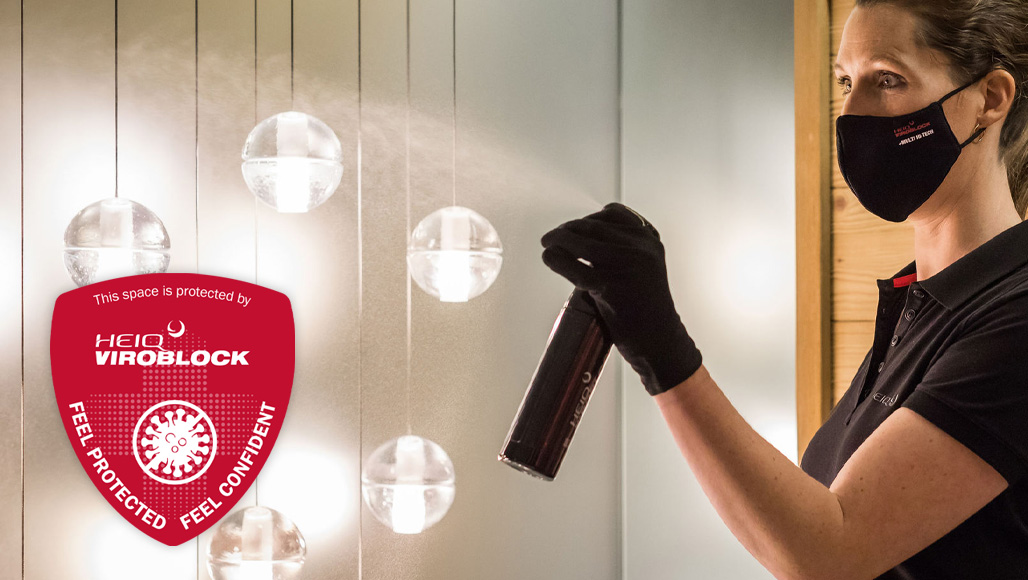 HeiQ Viroblock.
To keep you safe in all of our rooms and communal areas, we've partnered with scientists at HeiQ to coat all our surfaces with Viroblock - a groundbreaking technology that is scientifically proven to be 99.99% effective at destroying harmful viruses, including COVID-19.
HeiQ Viroblock is the fastest-acting, longest-lasting antibacterial and antiviral protective coating currently available in the world - and very importantly is environmentally friendly.
HeiQ Viroblock technology has a 98% to 99.5% viral and bacterial destruction in the first 2 to 5 minutes, 99.997% within 30 minutes and then it just keeps working.
This technology was first created and tested and used during the Ebola outbreak around 8 years ago. It was used to coat the protective suits and breathing apparatus used by the doctors, military and support personnel dealing with Ebola on the front line.

Last year it was scientifically tested that it destroys COVID-19, too. It destroys all known viruses and bacteria. This is a proven technology. Viroblock isn't the only piece of the jigsaw for a safe return to normal life and travelling but it is a very significant one.
HeiQ Viroblock NPJ03 technology actively inhibits viruses and kills bacteria upon contact, by means of residual disinfection, keeps working on any product or surface to which it is added. This antiviral and antibacterial treatment uses a unique combination of silver and vesicle technologies to reduce viral and bacterial infectivity by 98% in 2 minutes and 99.996% in 30 minutes – including Coronavirus.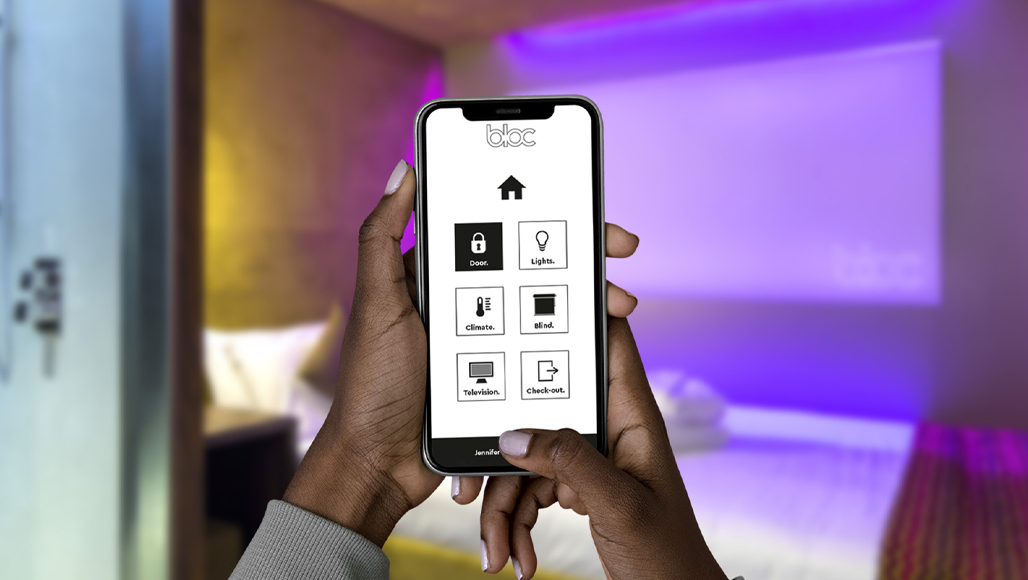 Sleep well. Stay protected.
With the launch of our new Smart Room Control, you can now check- in and gain access your room from your very own device. And not only that, but you can continue to use it to customise the temperature, adjust the lights, blinds, and even control the HD TV in your Bloc room.
No need to download any apps, simply click the unique link in your email inbox sent prior to arrival and enjoy unprecedented control on any internet-enabled smartphone, tablet or laptop.
For more information, visit our dedicated Smart Room Control page.
Birmingham is open. So are we.
Birmingham, the birthplace of Bloc is coming back to life. After the trying times of Covid, the city is re-opening. And now so are we.
This summer, Britain's second city is fit to burst with food, music, arts and culture. And to celebrate the return of fun to Brum, we'd like you to come and sample the city with 10% off all stays at Bloc Jewellery Quarter using discount code 'BACK10'.
Because we're not the destination, we're just right in the middle of it. And when you stay with us, so are you.