Fireworks in London | Guy Fawkes Night 2019.
Thursday, September 19, 2019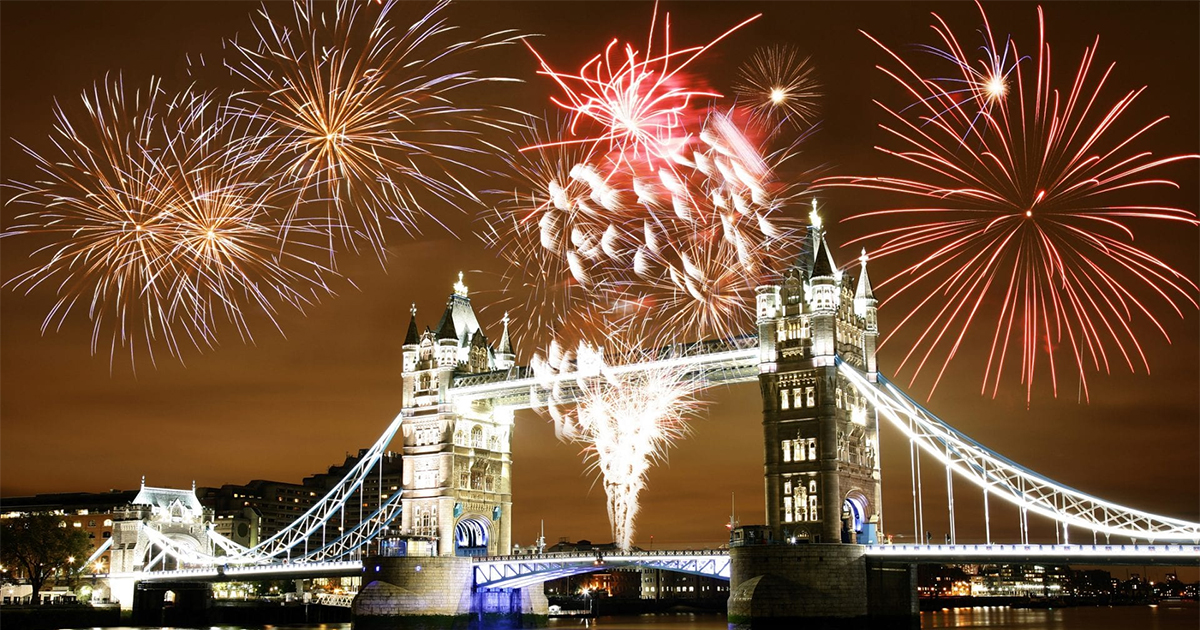 Each year, London marks the historic moment when Guy Fawkes and his motley crew attempted to blow up the Houses of Parliament and King James I in the Gunpowder Plot of 5 Novem-ber 1605 – the day became known as Guy Fawkes Day, or more commonly Bonfire Night.
Every November, bonfires are lit on which effigies known as "guys" are burned, while the skies are filled with colourful fireworks. It's also a time to enjoy traditional Bonfire Night food and drink, alongside music, funfairs and family activities.
Southwark
Southwark's fireworks night draws in the crowds every year and is one of the largest displays in the city. With a setting along the south bank of the River Thames, food and drink and plenty of entertainment, it's a great place to experience your first Bonfire Night fireworks display in London. Early booking is advised as tickets usually sell out in advance.
Battersea Park
Join thousands of revellers as this pretty park is illuminated with a huge bonfire and a spectacular fireworks display. Tuck into food and drink from the restaurants and bars of nearby Battersea Power Station, before filling your Instagram feed with snaps of the Battersea Park fireworks dis-play on the banks of the River Thames.
Crystal Palace
Join in the "oohs and aahs" of the crowd at the Crystal Palace Fireworks display this Guy Fawkes night in London. An Insta-worthy light show kicks off celebrations, followed by the main fireworks display later in the evening.
Beckenham
Head to Beckenham fireworks at Croydon Road Recreation Ground for plenty of family fun. Choose between a quiet firework show or the big bangs of the main display later in the evening. Be sure to arrive early to enjoy Bonfire Night food, the funfair and face painting for the kids.
Blackheath
Make your way to Blackheath Fireworks, one of the largest free London fireworks dis-plays on Bonfire Night. Enjoy this epic event which regularly hosts more than 80,000 people and includes a funfair, as well as an array of food and drink stalls.
Newham
Join in the family fun in Newham as the free Guy Fawkes Night display moves to the Royal Docks. Take the little ones for a ride at the fun-fair and don't forget to stop by the food stalls for a mulled wine or two.
Tower Hamlets
Drop by the Tower Hamlets fireworks in Victoria Park for an evening of Bonfire Night fun. Keep warm with snacks from the food and drink stalls, before the free fireworks dis-play lights up the skies over east London.
Alexandra Palace
Head over to north London for a weekend of fun at the annual two-day Alexandra Palace Fireworks Festival. One of the top Bonfire Night events in London, the activities on offer include a German beer festival, a funfair, ice skating, live music and a dazzling fireworks show.
Wembley Park
Watch fireworks shimmer over Wembley Stadium's iconic arch at the Light Up the Night display in Wembley Park. See the stunning fireworks display set to music, enjoy family entertainment and feast at delicious food stalls.
Royal Gunpowder Mills
Discover the history of Guy Fawkes and the Gunpowder Plot with the Royal Gunpowder Mills' Guy Fawkes Festival and Fireworks event. The former gunpowder factory offers a line-up of daytime activities and foodie treats, before a spectacular fireworks finale.
Kempton Park Racecourse
Experience one of the biggest firework displays in west London at Kempton Park Racecourse. You'll find thrilling rides, DJ sets, warming food and a themed firework dis-play set to top tunes, which are sure to impress!
Wimbledon Park
Witness a breathtaking display of pyrotechnics at the Wimbledon Park fireworks, where music and fireworks combine to create a dramatic show. There's funfair rides for some extra fun, plus a variety of food stalls for warming Bonfire Night snacks.
Bloc Gatwick
Bloc is a short stay hotel designed to give you the very best of everything needed to sleep, shower and step out fresh into a new day, right in the heart of the action.
Its short-term staying designed around you. Lightspeed wifi, to keep you connected when you're on. High-powered showers, sound-proof walls and big, comfy beds for when you're not.
It's everything you need, and none of what you don't. No bells, no whistles, just pure rest and relaxation. And even better, it's right at the centre of the action, so you can step right out into it when morning comes, and step right back in when the day is done.