Book Now
Book direct and save at least 10% + other exclusive Bloc perks.
Flights returning to Gatwick South Terminal from 27th March - Full list of airlines.
Friday, February 11, 2022
The article was updated with new airlines and dates on 24/03/2022.
Gatwick Airport's South Terminal will welcome back flights on 27th March to meet strong demand for travel this summer amid further easing of the UK's Covid restrictions.
After nearly two years of all flights operating solely from North Terminal, Gatwick's larger South Terminal is fully reopening.
Situated in the heart of South Terminal, guests staying at Bloc Hotel Gatwick can once again wake up just steps from departures. No other hotel gets you closer to your flight.
Click here to get free Gatwick Premium Security.
British Airways has already announced it will restart its short-haul services from Gatwick from 29th March, with 35 new European routes added. BA's low-cost sister airline, Vueling, will also be expanding its operations, adding five new short-haul routes and basing three aircraft at Gatwick.
Wizz Air will also significantly increase its operations from the airport with 18 new routes, while easyJet, Gatwick's biggest airline, has also taken up more slots and plan to fly their busiest flying schedule ever from the airport.
Gatwick South Terminal airlines:
Aer Lingus (March 29)
Air Arabia Maroc (March 29)
Air Baltic (March 29)
Air Europa (March 29)
Air Malta (March 27)
Aurigny (March 27)
BH Air (March 29)
British Airways (March 28)
China Airlines (March 27)
Corendon Airlines (March 29)
Croatia Airlines (March 29)
Eastern Airways (March 27)
easyJet (March 27 - some flights)
Enter Air (March 29)
Finnair (March 27)
Iberia Express (March 27)
Jet2 (March 29)
Norwegian (March 27)
Nouvelair (March 29)
Ryanair (March 29)
Scoot (March 29)
SmartWings (March 29)
SunExpress (March 29)
TAP Portugal (March 27)
Titan Airways (March 29)
TUI (March 27 - Flight numbers beginning with 'BY')
Ukraine International Airlines (March 29)
Vueling (March 28)
Wizz (March 27)
Tickets for over 30 exciting long-haul routes from Gatwick are also on sale, including New York, Tampa, Bangkok, Phuket, Mauritius, Dubai, Doha, Islamabad – and a range of cities across Canada, the Caribbean and Mexico, including Toronto, Montreal, Vancouver, Cancun, Antigua and Montego Bay.
To celebrate, use discount code "MYLGW10" to save 10% off all rooms at Bloc Hotel Gatwick and pay nothing until you stay with super-flexible cancellation.
Bloc Gatwick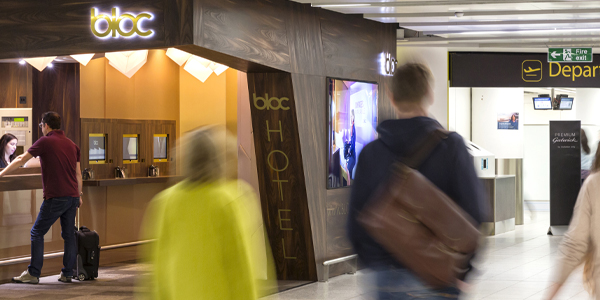 Bloc is a short-stay hotel designed to give you the very best of everything needed to sleep, shower and step out fresh into a new day, right in the heart of the action.
It's short-term staying designed around you. Lightspeed wifi, to keep you connected when you're on. High-powered showers, sound-proof walls and big, comfy beds for when you're not.
It's everything you need, and none of what you don't. No bells, no whistles, just pure rest and relaxation. And even better, it's right at the centre of the action, so you can step right out into it when morning comes, and step right back in when the day is done.
Book direct and save at least 10% + Free Premium Security.