Book Now
Book direct and save at least 10% + other exclusive Bloc perks.
Meet the team. Ryan Fair-Ellis.
Wednesday, March 4, 2020
Ryan Fair-Ellis, Duty Manager at Bloc Gatwick.
How did you come to work at Bloc hotels?
Growing up I always wanted to work at the airport and having studied Travel and Tourism as a foundation degree we often used hotels as business case studies. Working in a hotel is never really something I would have seen myself doing a few years ago, but I was looking for something different and more in-line with my interests. I saw the opportunity at Bloc and thought I'd apply and see where it led.
Now I can say it's a step that I'm pleased to have made. As soon as I had my first shift, I could see that Bloc was a nice environment to work in. It's great working in a company where everyone knows each other, and it is clear everyone is a valued part of the team.
How does hotel work differ to other jobs you've had?
I had been working in retail since I was at college. The retail environments I worked in were both very different experiences, but it was a very fast-paced role that often felt much less rewarding than my position here at Bloc. In many ways the job is the same – providing a great guest experience, ensuring a high-quality product is delivered and reacting to external factors like local events. I have been given much more freedom to make decisions and develop in this role. I think in this industry there are so many more career options that can be taken depending on your interests and ambitions.
What qualities are important to effectively manage a shift?
I have worked with a lot of different managers each with their own way of running a shift. These experiences really helped me to decide how a shift should be managed, but ultimately there are some key qualities that cannot be overlooked. Communication is key. Ensuring everyone is aware of what is going on makes a shift run smoothly. It is important to be open and honest with the team, and that the team you are working with are able to trust you and the decisions that you are making. It is also important that you are able to continue learning from the people you work with and the situations that you have to deal with. Each shift comes with its own challenge, and the more challenges you overcome the better prepared you are for the next one.
What has been your greatest accomplishment at Bloc?
There are two things I am really happy to have achieved at Bloc. The first being given the opportunity to progress to a duty manager position having been at Bloc just under a year. You are always encouraged to develop your skills. I would not have been able to do this if it wasn't for the support I have always felt from my colleagues at Bloc.
The second is being presented with the 'Employee of the Year' award. It came as a complete surprise and is something I am very grateful for. It is a great feeling knowing your hard work is recognised by the business.
Who inspires you and why?
I think I would have to say my mum is the person that has inspired me the most throughout my life. Bringing my siblings and me up she has always been there for us through the good and the bad times. She taught me that you should always treat others how you would like to be treated and you will go far if you work hard and enjoy life. She is definitely a huge reason I have become the person I am today.
I would also say that I have been inspired hugely by my nan. She always managed to put a smile on my face no matter how I was feeling. She proved time and time again no matter how tough things get there is always a way through if you have the strength and determination!
You must have some memorable interactions with guests?
Working in one of the busiest parts of Gatwick's south terminal means you have the opportunity to meet people not just from all around the country but also the world. It's great when there is a quiet moment and you have more time to listen to some of the stories people bring with them.
Despite the number of guests we meet every day there are always regular guests who recognise you and it is nice to be able to deliver a more personalised service. I would have to say one of the best interactions I had with a guest came just a couple of days before Christmas last year.
A family who would be staying with us Christmas eve called and had asked for Santa letters for their children to be placed in the room they would be staying in ready for when they arrived. It was a really busy and challenging shift but being able to do this for the guest with the help of my colleagues made my day. They were so grateful as this was the start of a Christmas they would be spending on holiday in Florida!
It is little things like this that make the job so rewarding.
Bloc Gatwick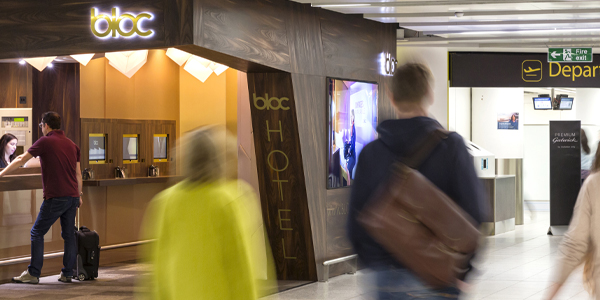 Bloc is a short-stay hotel designed to give you the very best of everything needed to sleep, shower and step out fresh into a new day, right in the heart of the action.
It's short-term staying designed around you. Lightspeed wifi, to keep you connected when you're on. High-powered showers, sound-proof walls and big, comfy beds for when you're not.
It's everything you need, and none of what you don't. No bells, no whistles, just pure rest and relaxation. And even better, it's right at the centre of the action, so you can step right out into it when morning comes, and step right back in when the day is done.
Book direct and save at least 10% + Free Premium Security.