Book Now
Let's find your perfect room at the best price.
Price Promise. We price match our rooms in real-time against all major booking sites.
Meeting the team: Adrian.
Wednesday, August 30, 2023
In this issue we introduce Adrian Tam, Assistant Reception Manager at Bloc Hotel Birmingham.
How did you come to work at Bloc?
Before moving to the UK and joining Bloc, for almost two decades, I was working in the Hong Kong hospitality industry. My previous role was Guest Services Manager at one of the country's most prestigious hotel chains.
After moving to the UK in 2021, I began searching for the perfect opportunity to further my career. It didn't take long before I found an open position being advertised by Bloc, and after researching the role and company, I knew it was a perfect fit. Looking back now, it's funny to think that it was my first job interview since arriving in the UK too!
How does working for a hotel differ to previous jobs?
Before my hotel career, I was a Business Manager with clients in retail and wholesale, so a lot of my time was spent going to different locations around Hong Kong and doing business with the same groups of people. I was so familiar with how their businesses operated, that I knew the answers to their questions before they even asked them.
But when you work at a hotel, you never know who is going to walk through the door. Every customer interaction is unique, even if the questions are sometimes the same, how you answer is almost always different based on their guest's wants and needs.
What are the best bits about becoming part of the Bloc team?
The best part about working at Bloc is the culture. It is very different from any jobs that I had before. Communication between all members of staff is amazing; regardless of position or department, everyone is willing to listen to help.
There is also great support from management to share ideas, no matter how big or small, encouraging and rewarding innovation.
What are the most important aspects of your role?
The two most important aspects of being an Assistant Reception Manager are being able to anticipate and oversee. You need to anticipate any issues and react correspondingly, while also overseeing the operations and anticipate if there's any further improvement needed to ensure efficiency and good customer service.
On top of all of that, it is also crucial to keep your team motivated and preserve good morale.
What has been your greatest accomplishment at Bloc?
I was honoured to receive an award at last year's annual Bloc Value Awards. It was exactly one year since joining Bloc and I was thrilled to be nominated for being Dedicated to Detail.
What is the biggest challenge you have faced?
Moving to the UK with my family in 2021 is probably the hardest.
Although I knew it was the right decision, to leave behind friends and family was emotionally challenging. It was a tough period for me and my family, especially during the pandemic and prolonged lockdowns. But on the flip side, it gave my family (and two cats) the opportunity to settle down in our new home and neighbourhood.
I'm beyond grateful for all the support and kindness shown by those who helped us along the way and continued support from the Bloc team.
Who inspires you and why?
It is fair to say every manager has shaped the way I am today. But I would say the Front of House Manager at my first hotel job I inspired me the most. As a complete newbie, he taught me the foundations of being a hotelier and gave me both the skills and confidence to build my hotel career for the following 10 years.
What is your most memorable experience at Bloc?
The most memorable interaction is a time when one of our guests kindly asked where I was from, and when I told her she became emotional and expressed her warm feelings towards Hong Kong.
She explained that she had been reading a lot about the country's history, trying to learn more about her cultural roots as both her grandparents were born there. It was a heartwarming conversation, sharing stories and understanding about the place where I was born and once called home.
Bloc Jewellery Quarter.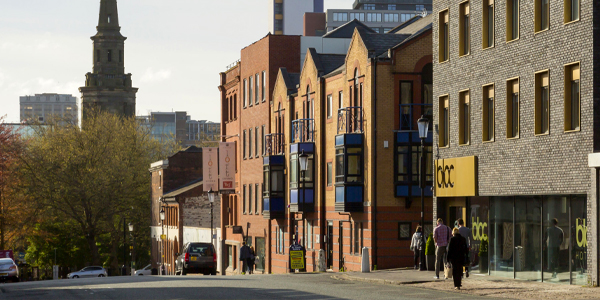 Bloc is a short-stay hotel designed to give you the very best of everything needed to sleep, shower and step out fresh into a new day, right in the heart of the action.
It's short-term staying designed around you. Lightspeed wifi, to keep you connected when you're on. High-powered showers, sound-proof walls and big, comfy beds for when you're not.
It's everything you need, and none of what you don't. No bells, no whistles, just pure rest and relaxation. And even better, it's right at the centre of the action, so you can step right out into it when morning comes, and step right back in when the day is done.
Book direct and save at least 10% + Free Late Check-out.