Book Now
Book direct and save at least 10% + other exclusive Bloc perks.
Meeting the team: Antra
Wednesday, March 8, 2023
Introducing one of the longest-serving Bloc team members, room attendant, Antra Juanzeme, who works in our Birmingham hotel.
Congratulations, you recently celebrated your 10-year anniversary at Bloc. How did you come to work with us?
Thank you. I can honestly say it only feels like 10 weeks, the time has really flown by. I've enjoyed every second of it.
It's such a long time ago, it's hard to remember! I saw that Bloc Hotel was hiring on Facebook and thought that the company seemed very unique. As the saying goes, the rest is history.
How does working in a hotel differ from other jobs you've had in the past?
We always joke amongst the housekeeping staff that we save a fortune on gym memberships, as every shift can feel like a workout. But in truth, that's one of the many reasons why I enjoy it so much. That feeling of having done a hard day's work is extremely satisfying.
No two days are ever the same and we have so much fun as a team, that the time really flies by. For that very reason, I couldn't ever imagine myself doing a desk job.
What are the best moments of being part of the Bloc team?
Receiving positive guest feedback is amazing. Guests shouldn't have to think about how clean and pristine their room is, so when someone does by leaving a positive review online, it fills us all with a huge sense of pride.
Our regular Bloc team get-togethers are always something I really look forward to. It's great to spend time with the team outside of work, unwind and have the opportunity to celebrate our recent successes.
What are the highlights of your role?
Having the opportunity to work with such an amazing team every day makes all the difference.
Working in housekeeping is a real team effort, especially when we're very busy, and are on a tight deadline to make sure we complete all our jobs in time for check-in.
What has been your biggest achievement at Bloc?
Having just celebrated my 10-year anniversary at Bloc, I would say that is by far my biggest achievement.
To think that I've cleaned over 70,000 rooms during that time is crazy. But when I think of that number, it fills me with a huge sense of accomplishment. Here's to the next 70,000!
What is the biggest challenge you have faced?
I'm not afraid of new challenges but moving from Latvia to live and work here in Birmingham was probably the most daunting.
When I first moved here my English was very poor, and I was worried it was going to hold me back both personally and professionally. But everyone at Bloc was and continues to be incredibly supportive and make me feel at home from day one.
Who inspires you and why?
To me, family is everything. My children and grandchildren are both huge inspirations, seeing how much they've developed and being able to continually support them makes me exceptionally happy.
What is your most memorable guest interaction?
For me, it's the little moments that are most memorable. From bumping into regular guests who take the time to stop and say hello, or being able to find someone's lost wedding ring.
There are so many of these moments that make me really enjoy my job.
Bloc Jewellery Quarter.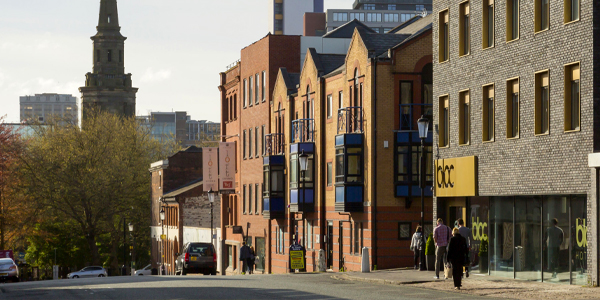 Bloc is a short-stay hotel designed to give you the very best of everything needed to sleep, shower and step out fresh into a new day, right in the heart of the action.
It's short-term staying designed around you. Lightspeed wifi, to keep you connected when you're on. High-powered showers, sound-proof walls and big, comfy beds for when you're not.
It's everything you need, and none of what you don't. No bells, no whistles, just pure rest and relaxation. And even better, it's right at the centre of the action, so you can step right out into it when morning comes, and step right back in when the day is done.
Book direct and save at least 10% + Free Late Check-out.