Meeting the team: Hannah.
Monday, September 2, 2019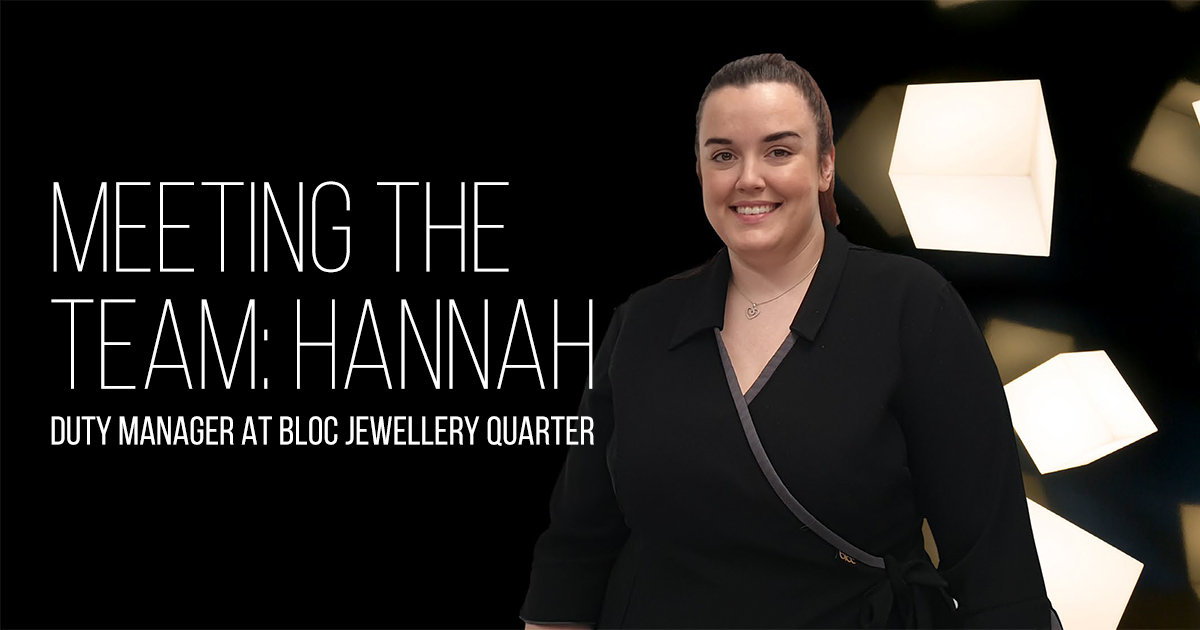 HOW DID YOU COME TO WORK AT BLOC HOTELS?
After working in customer service for nearly 10 years, I'd found myself in a call centre job that I didn't really enjoy. When I was looking online for something new, BLOC came up. My favourite part of customer service is meeting people and hearing the different stories they have to tell.
I loved the idea of meeting new people, face to face, every day! It was so refreshing! Working in a hotel was something I'd always considered, and when I researched BLOC and found out how modern and new, they were, as well as how unique they were, I couldn't resist!
HOW DOES HOTEL WORK DIFFER TO OTHER JOBS YOU'VE HAD?
Before BLOC I'd had a variety of jobs. As well as customer service, I'd spent a lot of my time working in sport. My main career was as a professional rugby coach for a premiership club, but I also spent a lot of my time teaching in schools and the community. Whilst all of my jobs have been somewhat dramatically different, each one has taught me something that helps me in the next role.
The thing I like most about BLOC is that it allows me to use (and expand on) all of my skills, such as people management, teamwork, customer service and problem-solving. I also feel that BLOC allows me to push myself where other jobs have limited me. I truly believe that the possibilities of my potential with the company, are endless, and I can't wait to see where they lead to next!
WHAT QUALITIES ARE IMPORTANT TO EFFECTIVELY MANAGE A SHIFT?
To effectively manage a shift you must have the basics organised. In the environment we work in, it's likely that something unexpected can happen. If you have the basics tasks of your shift organised, then everything that happens after is easier to manage. Teamwork and communication are also important! I'm quite lucky in that I have a great team to work with. We all get on and genuinely play a big role in each other's lives. We spend most of our time together, so it is important that we can communicate properly with each other.
WHAT HAS BEEN YOUR GREATEST ACCOMPLISHMENT AT BLOC?
I have two! My first great achievement at BLOC was winning the first-ever 'Employee of The Year Award' for BLOC Hotel Birmingham, back in 2017. I'd never won an award like it before, so I was very honoured. I always feel encouraged at BLOC to do my best, and awards like that help remind us that we are important, and we are doing a good job!
My Second is getting engaged! I met my fiancé whilst I was working at BLOC. He was a workman who'd come on-site to renovate some of our rooms. As luck would have it a year later, we got engaged in room 250! (Definitely my favourite room!)
WHO INSPIRES YOU AND WHY?
Ten years ago, my teenage self would have cringed at the answer I'm about to give! But the truth is it's my parents! Both my Mom and Dad have worked tirelessly to provide for me and my brother whilst we were growing up.
From working up to 6 jobs at a time just to put food on the table, to owning their own businesses and living in a nice area; They have taught me that I am capable of anything, if I put the time and dedication in. They have taught me discipline and the value of hard work, and that things don't come easily just because you want them too. That anything worth value and worth having, also requires hard work! For me one of the most important things that they've taught me, is that nothing can stop me if I really want something and am willing to work hard for it. Especially being a woman!
These are all things that I can't wait to teach my step-daughters and can only thank my parents for.
YOU MUST HAVE SOME MEMORABLE INTERACTIONS WITH GUESTS?
Having worked at the company for just over two and a half years, I've met lots of memorable guests! From regular corporate guests who stay weekly, to the ones we may only see once a year for the cricket or Christmas.
Whilst there are too many to name, one from a recent booking stands out. He had come as part of a group last year and had booked and paid for all his rooms twice! When he arrived, I asked him if he would like to use the other rooms he had booked, and it turned out he hadn't even noticed! We had a laugh about it, and the guest even returned this year and remembered me! Little things like that, definitely make me feel like I'm doing a good job!