Book Now
Let's find your perfect room at the best price.
Price Promise. We price match our rooms in real-time against all major booking sites.
Mega-Mukaab
Thursday, July 13, 2023
Riyadh's "Mukaab" is set to become an iconic landmark, and will be one of the largest built structures in the world, standing 400m high, 400m wide, and 400m long.
The New Murabba project will be built around the concept of sustainability, featuring green areas and walking and cycling paths that will enhance the quality of life by promoting healthy, active lifestyles and community activities. It will also feature an iconic museum, a technology and design university, a multipurpose immersive theatre, and more than 80 entertainment and culture venues.
The project will be situated at the intersection of King Salman and King Khalid roads to the North West of Riyadh, over an area of 19 square kilometres, to accommodate hundreds of thousands of residents. The project will offer more than 25 million sqm of floor area, featuring more than 104,000 residential units, 9,000 hotel rooms, and more than 980,000 sqm of retail space, as well as 1.4 million sqm of office space, 620,000 sqm of leisure assets, and 1.8 million sqm of space dedicated to community facilities.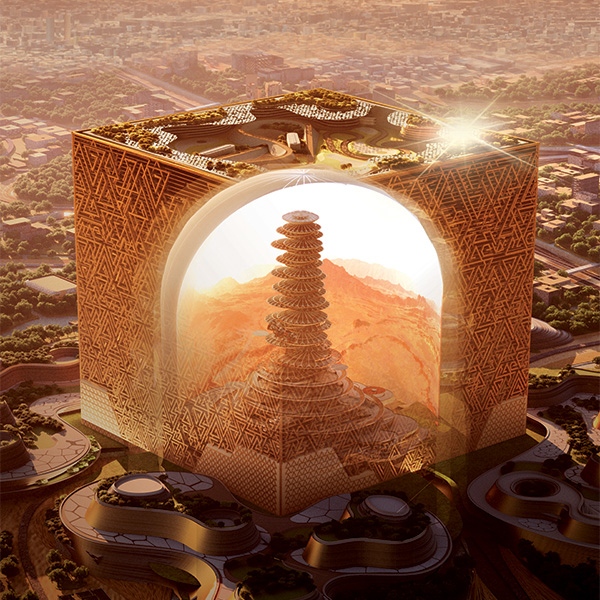 The New Murabba project will offer a unique living, working and entertainment experience within a 15-minute walking radius and will have its own internal transport system. It will be approximately 20-minutes drive from the airport.
NMDC will develop the project and build the "Mukaab", an exceptional iconic landmark featuring the latest innovative technologies. The design of the "Mukaab" includes first-of-its-kind facilities and will be one of the largest built structures in the world, standing 400m high, 400m wide, and 400m long. The cubic shape of the "Mukaab" will ensure the ultimate utilization of space to accommodate the technologies necessary to develop the icon.
Inspired by the modern Najdi architectural style, the "Mukaab" will be the world's first immersive destination offering an experience created by digital and virtual technology with the latest holographics. The "Mukaab" will encompass a tower atop a spiral base, and a structure featuring 2 million sqm of floor space that will be a premium hospitality destination with a multitude of retail, cultural and tourist attractions, along with residential and hotel units, commercial spaces, and recreational facilities.
The launch of NMDC is part of PIF's strategy to unlock the capabilities of promising sectors, enable the private sector and increase local content, contribute to the development of real estate projects and the local infrastructure, and diversify sources of income for the Saudi economy. It is expected to add SAR180 billion to non-oil GDP and create 334,000 direct and indirect jobs by 2030.
The project is due to be completed in 2030.
Short-term staying designed around you.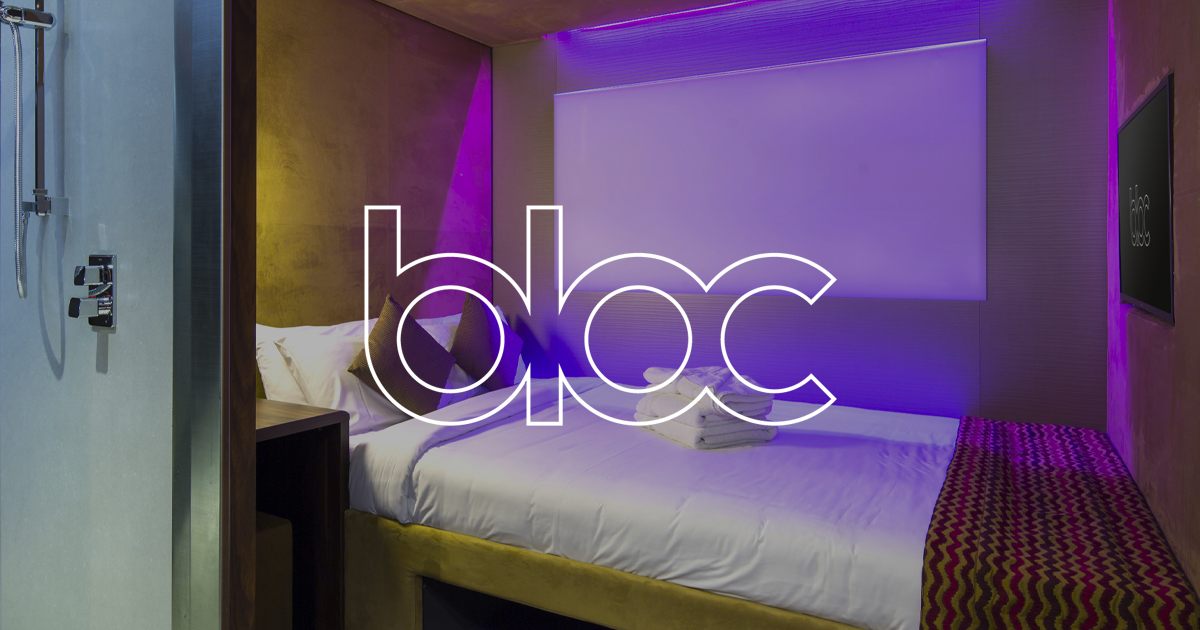 Bloc is a short-stay hotel designed to give you the very best of everything needed to sleep, shower and step out fresh into a new day, right in the heart of the action.
Lightspeed wifi, to keep you connected when you're on. High-powered showers, sound-proof walls and big, comfy beds for when you're not.
It's everything you need, and none of what you don't. No bells, no whistles, just pure rest and relaxation.