Book Now
Book direct and save at least 10% + other exclusive Bloc perks.
Ninety-nine problems.
Monday, March 7, 2022
At the height of their popularity in the 1960s, there were over 30,000 ice-cream vans in operation across the UK. Today, there are less than 5000 enticing people out of their homes to enjoy a frosty treat.
While the chimes of ice-cream vans are disappearing from suburban Britain, those who continue to "Ding Dong" (industry term for those who own and operate an ice-cream van) are turning to greener technology to stop the glaciers, and their profits, from melting.
While not everyone can agree who invented the first ice-cream van, most soft-serve aficionados will credit Thomas Carvel as the godfather.
The story goes that Carvel, an ice cream seller from New York, found himself stranded with a flat tyre on Memorial Day 1934. With his van of ice-creams melting, he began selling it to passers-by. Within two days he had sold his entire supply.
America's love affair with the softer, melting frozen treats continued to grow and grow. Thanks in part to the successful Mister Softee ice-cream truck franchise, whose exponential growth caught the attention of visiting British businessman Dominic Facchino.
Seeing the opportunity to sell soft-serve ice cream from mobile ice-cream vans back in the UK, Facchino returned home and in 1958 to set up his own franchise in Birmingham. He started with a fleet of six vans and named his company Mr. Whippy.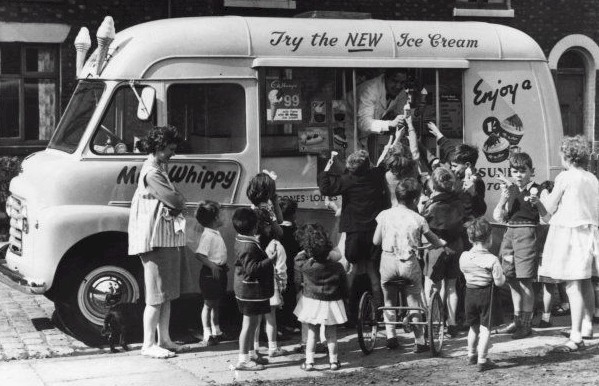 Today, there are mainly two types of ice-cream vans. A hard van, which sells scoop ice cream from a freezer and a soft van, which have additional "whippy" machines for serving ice-cream cones and screwballs.
Ice-cream vans are created by converting factory standard vans with the rear cut away and replaced with a custom fibreglass body and sliding serving window. For ice-cream vans to keep their freezers cool and machines powered, they also need to keep their engines running when parked.
While ice-cream vans are unlikely to be making a big contribution to the total amount of roadside pollution compared with the millions of other vehicles, clean air campaigners point out that icecream vans are often parked next to playgrounds and schools. Going green could make a big difference, especially to children's health.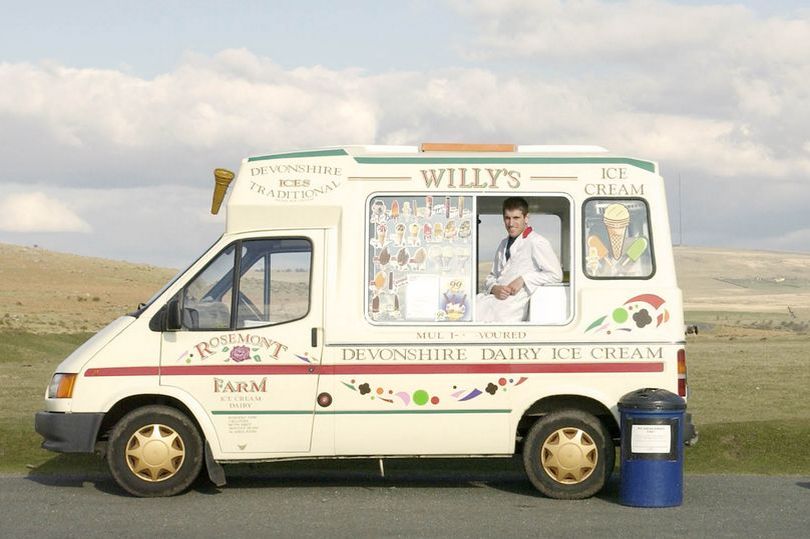 To encourage all road users to think green, many major cities across the country have introduced pollution premiums through Clean Air, Congestion or Ultra Low Emission Zones. Ice-cream vans are not exempt, with the London borough of Camden going further and banning ice-cream vans from 40 streets due to concerns over pollution.
For an industry that is used to the unpredictability of British weather, it is unsurprising to learn that they are looking for confident solutions to safeguard their businesses for the future.
Whitby Morrison, a family-run engineering company based in Crewe are leading the charge in cleaner ice-cream vans. Founded in 1962, they're the world's leading ice-cream van manufacturer and produce about 80% of all ice-cream vans in the UK.
Producing around 85 vans a year, each one takes six weeks to build and are hand-finished to the customer's exact requirements. In short, they produce the Rolls-Royce of ice-cream vans.
In response to the growing need for more eco-friendly vans, in February 2021, they unveiled their new ePower range of electric ice-cream vans.
While still built using the same diesel-powered Mercedes-Benz Sprinter chassis, the new ePower lithium-Ion battery technology promises to produce up to 600 cones an hour without any toppings of diesel fumes. Whitby Morrison claims their new vans can produce Mr Whippy ice cream for 12 hours at a time without any engine power required whatsoever.
There's also hope for older, more traditional ice cream vans too as the ePower technology can be retrofitted to existing vehicles.
It seems fitting that the same company who patented the technology to utilise the ice-cream van's own engine to transmit mechanical power to the soft ice cream machine are also the creators of its demise.
So, the next time you're called by the ding dongs in search of a 99, check to see if the van's engine is still running. If not, treat yourself to some extra sprinkles as a thank you from the planet.
Bloc Jewellery Quarter.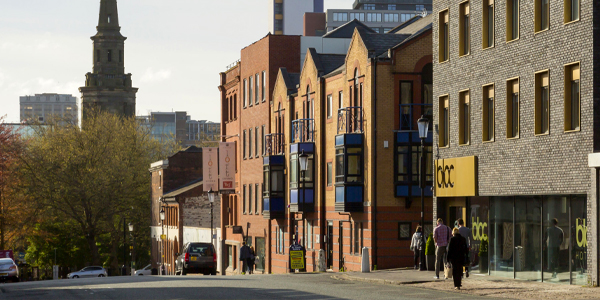 Bloc is a short-stay hotel designed to give you the very best of everything needed to sleep, shower and step out fresh into a new day, right in the heart of the action.
It's short-term staying designed around you. Lightspeed wifi, to keep you connected when you're on. High-powered showers, sound-proof walls and big, comfy beds for when you're not.
It's everything you need, and none of what you don't. No bells, no whistles, just pure rest and relaxation. And even better, it's right at the centre of the action, so you can step right out into it when morning comes, and step right back in when the day is done.
Book direct and save at least 10% + Free Late Check-out.