Peaky Blinders Festival.
Tuesday, September 10, 2019
On September 14th and 15th, Birmingham celebrates the television show that has catapulted its history to a global audience. Now, the show's creator, stars, famous fans and its home city come together to create a spectacular, immersive and 'legitimate' event in its honour...
The Legitimate Peaky Blin-ders Festival will bring together immersive theatre, live music and fashion inspired by the series, a cine-ma showing, a museum, food, drink, poetry and more.
With 5 stages of music, live recreations of Peaky Blinders scenes involving 200 actors, fashion shows and men's grooming - fans will be living in the show's world encompassing the Digbeth, Central Birmingham area.
Using its historic streets, warehouses and factories and employing lighting, sound, smoke, video mapping and special effects, the post World War 1 era will come to life for an unmissable day.
Artists confirmed across the weekend include Primal Scream, Anna Calvi, Slaves, Nadine Shah, a BBC Introducing Stage and a host of excellent music performances, reflecting one of the sharpest soundtracks on television.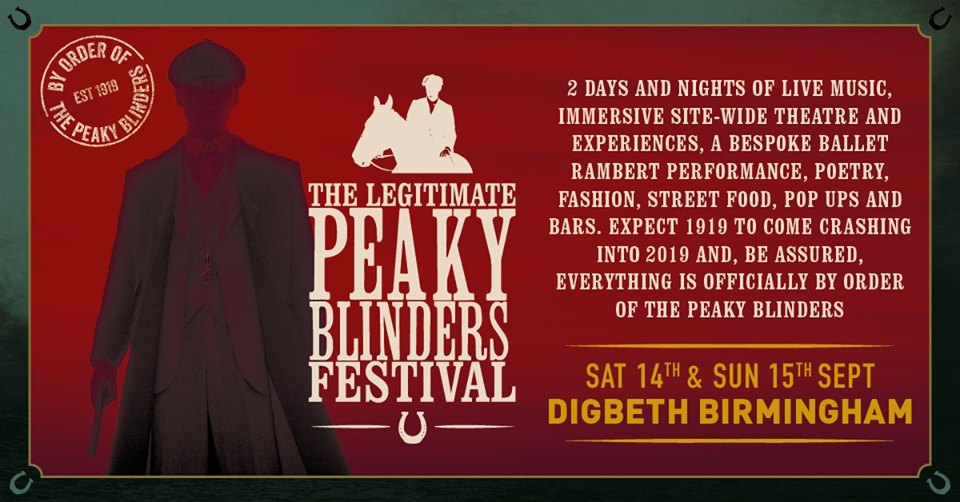 Martin Coat, the creative mind behind Boomtown and immersive theatre specialists Dank Parish, bring the world of Peaky Blinders to life, taking over the streets of Birmingham. Expect close up entertainment and immerse yourself in the underbelly of early 20th century Birmingham and all the high hitting drama of the Peaky Blinders world.
Contemporary dance company Rambert will perform a specially commissioned performance, choreographed for the festival by artistic director Benoit Swan Pouffer. Steven Knight will reveal all in a live Q&A, also featuring the show's stars.
Following the Kent and Curwen catwalk show in January 2019 where the collaboration with hit series Peaky Blinders was first shown, Kent and Curwen are proud to announce their involvement in the Peaky Blinders Festival 2019. VIP ambassadors will be dressed in the Kent and Curwen x Peaky Blinders collection. Kent and Curwen's creative Director Daniel Kearns will host a conversation, discussing 'The Peaky Look' and how to achieve this with Kent and Curwen collaboration.
In addition, there will be a fashion show from Steven Knight's Garrison Tailors clothing range, plus the show's influ-ence on modern style will be reflected in onsite tailoring and men's grooming.
Tickets: aegpresents.co.uk/peakyblinders
Bloc Jewellery Quarter
Bloc is a short stay hotel designed to give you the very best of everything needed to sleep, shower and step out fresh into a new day, right in the heart of the action.
Its short-term staying designed around you. Lightspeed wifi, to keep you connected when you're on. High-powered showers, sound-proof walls and big, comfy beds for when you're not.
It's everything you need, and none of what you don't. No bells, no whistles, just pure rest and relaxation. And even better, it's right at the centre of the action, so you can step right out into it when morning comes, and step right back in when the day is done.
Looking for some staycation inspiration? Check out Things to do in Birmingham and start planning your next adventure with Bloc.