Book Now
Book direct and save at least 10% + other exclusive Bloc perks.
Bloc out stress. 6 simple yoga stretches.
Wednesday, March 25, 2020
And relax! It is possible to find inner peace while travelling without even leaving the comfort of your hotel bed…
Yoga guru Vyda Bielkus says: "Don't underestimate the power of those few minutes before we get out of bed. Yoga is a great way to unwind from stress or greet the day."
Before grabbing a coffee, flicking on the TV or checking for overnight status updates on their smartphone, the canny traveller runs through a simple sequence of stretches and poses to set themselves up for the day.
But always keep in mind that a bed doesn't provide the support or resistance of a yoga mat on the floor. Pull out of any exercise that feels too intense and curl up, holding your knees to your chest to let your body recover.


Exhale, pressing the soles of your feet and palms into the mattress and lift your hips into an upward plank. Then, with your right side to the wall, exhale and lift your legs up the wall in one fluid motion while lowering your head and shoulders gently to the bed.
Next bend your knees and, with heels as close to your sitting bone as possible, lift into the bridge pose.
And from a prone position with hands under shoulders, lift into the cobra. Bring your heels close to the buttocks as you move into the bow pose.
Finally supporting the weight of your body on outside foot and hand, lift into the side plank. Now you are ready for the day. Namaste.
Bloc Gatwick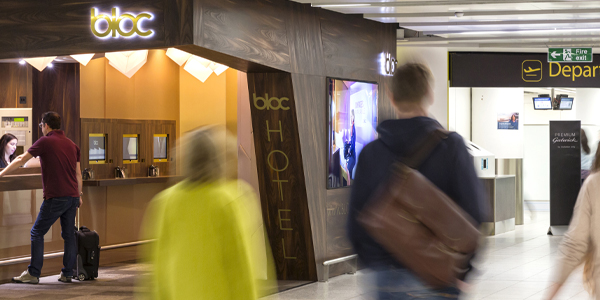 Bloc is a short-stay hotel designed to give you the very best of everything needed to sleep, shower and step out fresh into a new day, right in the heart of the action.
It's short-term staying designed around you. Lightspeed wifi, to keep you connected when you're on. High-powered showers, sound-proof walls and big, comfy beds for when you're not.
It's everything you need, and none of what you don't. No bells, no whistles, just pure rest and relaxation. And even better, it's right at the centre of the action, so you can step right out into it when morning comes, and step right back in when the day is done.
Book direct and save at least 10% + Free Premium Security.