Book Now
Book direct and save at least 10% + other exclusive Bloc perks.
Spring streaming 2022.
Monday, March 7, 2022
There are more shows than ever vying for your attention and it's difficult to know where to start. That's why we've done the hard yards for you.
The Last Days of Ptolemy Grey.

Apple TV+. March 11th.
A six-episode limited series based on the novel of the same name by Walter Mosley, starring Samuel L. Jackson in the lead role.
Suddenly left without his trusted caretaker and on the brink of sinking even deeper into a lonely dementia, Ptolemy is assigned to the care of orphaned teenager Robyn. When they learn about a treatment that can restore Ptolemy's dementia-addled memories, it begins a journey toward shocking truths about the past, present and future.
Worst Roommate Ever.

Netflix. March 1st.
The new 5-part limited series from Blumhouse Television tells the true and harrowing tales of roommates turning into nightmares. Forget leaving dirty plates on the side or paying the rent late, think violent con artists and stone-cold killers.
Based on writer William Brennan's New York magazine story "Worst Roommate Ever", which tells the story of Jamison Bachman, a serial squatter who used tenancy laws to bilk housemates out of their homes and much worse.
Against The Ice.

Netflix. March 2nd.
A historical survival film starring Nikolaj Coster-Waldau and Joe Cole who venture into Greenland's vast landscape for a lost map while fighting to survive.
Based on the true story of Denmark's 1909 polar expedition, led by Captain Ejnar Mikkelsen, to challenge the United States' claim to North-Eastern Greenland and prove that Greenland wasn't broken into two different pieces of land.
The Adam Project.

Netflix. March 11th.
What would your 13-year-old self be proud if they met the present-day you? That's a lot to think about, but you can watch Ryan Reynolds deal with that in this new sci-fi movie.
He plays a man who must travel back in time and team up with his kid-self in order to go back even further in time to find his late father (Mark Ruffalo) so together they can save the world and life as we know it.
The Dropout.

Hulu. March 3rd.
Based on Rebecca Jarvis's ABC Audio podcast of the same name, this Hulu Original drama series centres on Theranos founder Elizabeth Holmes (Amanda Seyfried) and her attempts to transform the healthcare industry after dropping out of college and starting her own technology company.
The seemingly revolutionary company that peaked at $10 billion in valuation turned out to be a scam, with tech that ultimately didn't work, causing Holmes to be indicted on multiple charges of defrauding investors and wire fraud.
Turning Red.

Disney+. March 11th.
Mei Lee is a 13-year-old girl who is torn between being her mother's obedient daughter and the chaos of her youth. As if that were not enough, when she gets too excited, she turns into a big red panda.
Turning Red will be Pixar's first film to be solely directed by a woman, Domee Shi, who wrote and directed the Academy Award-winning Pixar short Bao.
The film also stars the familiar voice of Sandra Oh, who played Eve Polastri in the spy thriller series Killing Eve.
Bloc Gatwick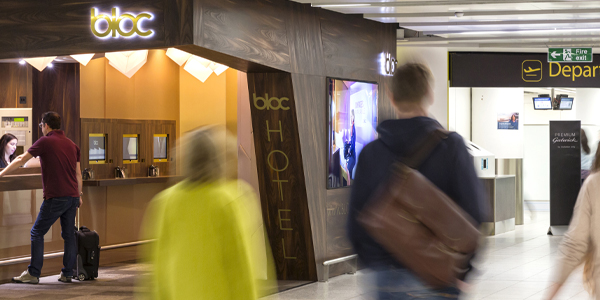 Bloc is a short-stay hotel designed to give you the very best of everything needed to sleep, shower and step out fresh into a new day, right in the heart of the action.
It's short-term staying designed around you. Lightspeed wifi, to keep you connected when you're on. High-powered showers, sound-proof walls and big, comfy beds for when you're not.
It's everything you need, and none of what you don't. No bells, no whistles, just pure rest and relaxation. And even better, it's right at the centre of the action, so you can step right out into it when morning comes, and step right back in when the day is done.
Book direct and save at least 10% + Free Premium Security.