Book Now
Book direct and save at least 10% + other exclusive Bloc perks.
Stress less.
Wednesday, January 8, 2020
Holidays are all about switching off, avoiding all thoughts of work and most of all relaxation.
But before you can board the plane and turn off your phone for a few peaceful hours of back-to-back inflight movies, you first must contend with getting there in the first place.
Even more frequent business travellers understand how notoriously stress-inducing airports can be.
The unnecessary fear as you pass through the security metal detector, tackling the duty-free assault course, finding your gate… not to mention all the waiting.
With this in mind, airport lounge experts Priority Pass conducted a survey of more than 1,700 travelling Brits to discover the most stressful parts of the airport experience.
The single thing that worried travellers the most was simply getting to the airport on time. 63% of respondents we're fearful that public transport or traffic could cause delays or, in the worst-case scenario, missed flights.
Figures vary when determining how many passengers actually miss their flight, but it's estimated that 1/20 never reach the gate on time. However, the majority of these are thought to be caused by missed connections.
Three in five people surveyed said they have a somewhat irrational fear of losing their passport while actually in the terminal.
Taking a closer look at the survey results revealed that 61% were more worried about losing their luggage, compared to only 41% concerned about losing a child!
However, when it came to the overall airport experience, the survey found that passengers we're most relaxed when spending time in the departure lounge.
Nothing compares to soothing your anxiety like waiting patiently at your gate after buying a giant duty-free Toblerone.
Stress levels begin to rise again when passengers reached their destination, with 48.95% saying tackling baggage collection was their biggest anguish.
On the bright side, at least you'll be hundreds of miles from the stresses of everyday life. That is until you've got to do it all over again on the way home.
Enjoy a stress-free start to your holiday at Bloc Gatwick. Did you know, that if you book direct with Bloc and join our free VIP Guest List, you'll also receive complimentary Premium Security access?
So not only can you wake up steps from departures, but you can also skip the queues at security too.
Bloc Gatwick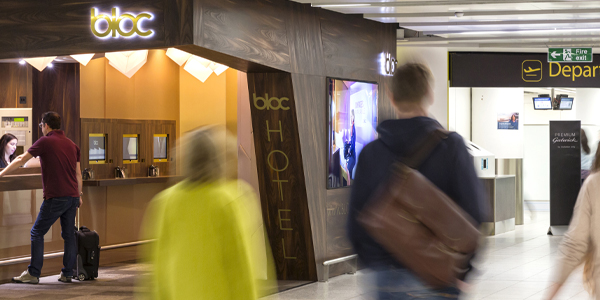 Bloc is a short-stay hotel designed to give you the very best of everything needed to sleep, shower and step out fresh into a new day, right in the heart of the action.
It's short-term staying designed around you. Lightspeed wifi, to keep you connected when you're on. High-powered showers, sound-proof walls and big, comfy beds for when you're not.
It's everything you need, and none of what you don't. No bells, no whistles, just pure rest and relaxation. And even better, it's right at the centre of the action, so you can step right out into it when morning comes, and step right back in when the day is done.
Book direct and save at least 10% + Free Premium Security.