Book Now
Let's find your perfect room at the best price.
Price Promise. We price match our rooms in real-time against all major booking sites.
Sunshine Saturday: 7 magnificent destinations to beat those winter blues
Thursday, December 20, 2018
If that strikes a chord, then it's time to haul yourself off that sofa and start fighting back. Not by heading to the gym to be patronised by a smug, slip of a personal trainer. Yes, you want to feel the burn, but properly; as in, whilst lying on a sunbed sipping ice-cold cocktails.
So, to help rekindle that jaded mojo of yours, we've teamed up with Weather2Travel.com to create a list of the best seven destinations that you can visit this winter* for maximum sun, fun and fruity-filled rum.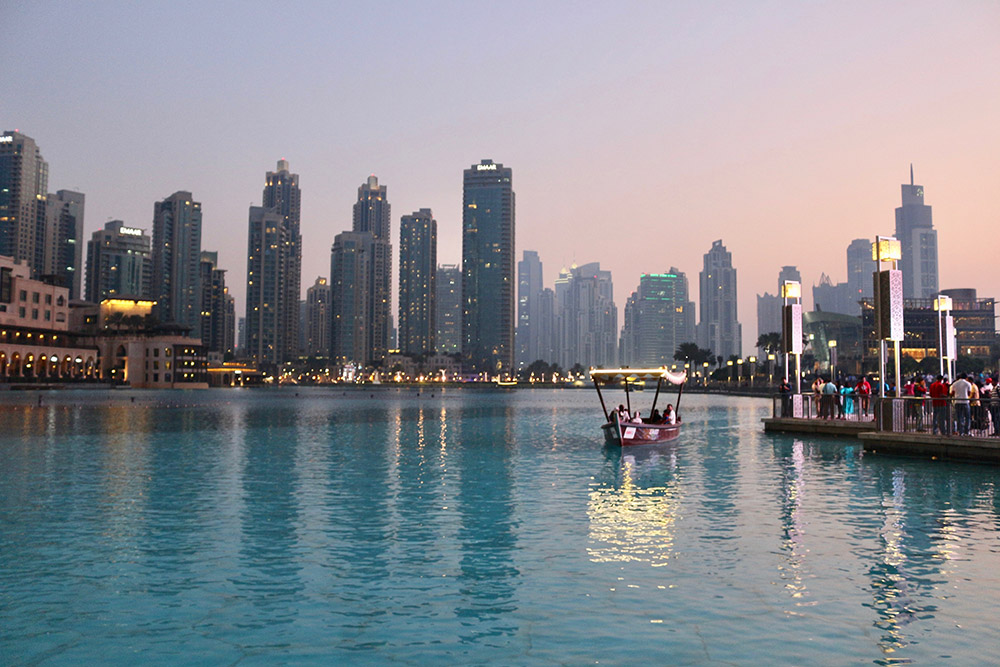 Dubai, UAE
Flight time from London Gatwick: 7 hours
Daily high: 25°C
Hours of sunshine: 8
Sea temperature: 22°C
Top of our list is this perennial favourite. With daytime temperatures in the mid-twenties and eight hours of sunshine a day (that's around six hours more than you'll find in the UK at the same time), it's easy to see why so many people pick this Middle Eastern oasis as their winter escape of choice.
Daytime temperatures may be very pleasant but the moment the sun sets they will fall quite sharply to an average of around 14°C overnight, so do take an extra layer for evenings. Thanks to Dubai's location much closer to the equator, days are long with and you can also expect around 11 hours of daylight during February.
If you find the sea a touch on the chilly side, some hotels have heated pools, however many are indoor - best check with your hotel before booking. On that note, there are so many fabulous hotels and resorts to choose from in Dubai, and there's always a deal to be had if you shop around.
So, maximum sun and maximum fun. Just be careful where you consume your colourful cocktails as the UAE has very strict alcohol laws.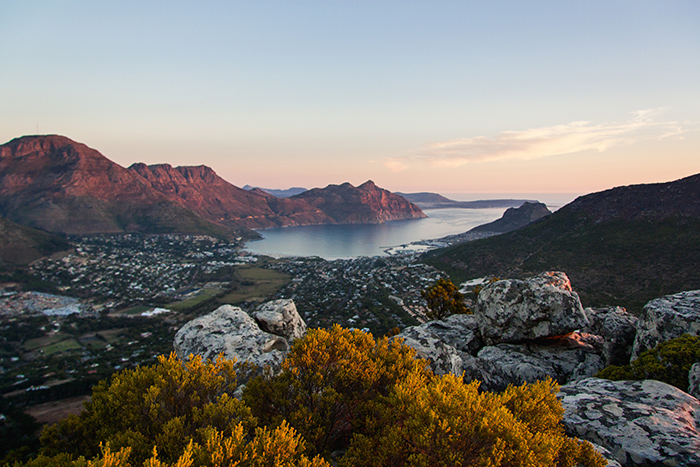 Cape Town, South Africa
Flight time from London Gatwick: 12 hours
Daily high: 25°C
Hours of sunshine: 10
Sea temperature: 20°C
The average daytime temperature in Cape Town is a warm and manageable 25℃ with low humidity - perfect for those who don't like it too hot. It sees 14 hours of daylight in February, of which 10 (77%) are usually bright and sunny.
Whether dining at the cosmopolitan V&A Waterfront, scaling Table Mountain, shopping for hipster produce at the trendy Neighbourgoods Market or day tripping to some of the region's finest wineries, there's no shortage of activities to keep everyone occupied.
Top tip: don't miss Kalk Bay, ideal for a stroll along the seafront. This smart suburb is filled with excellent cafés and boutique shops, not to mention the world-famous Boulders Beach with its beloved residents, a colony of African penguins.
Cape Town may be a long-haul choice, but one that is definitely worth it.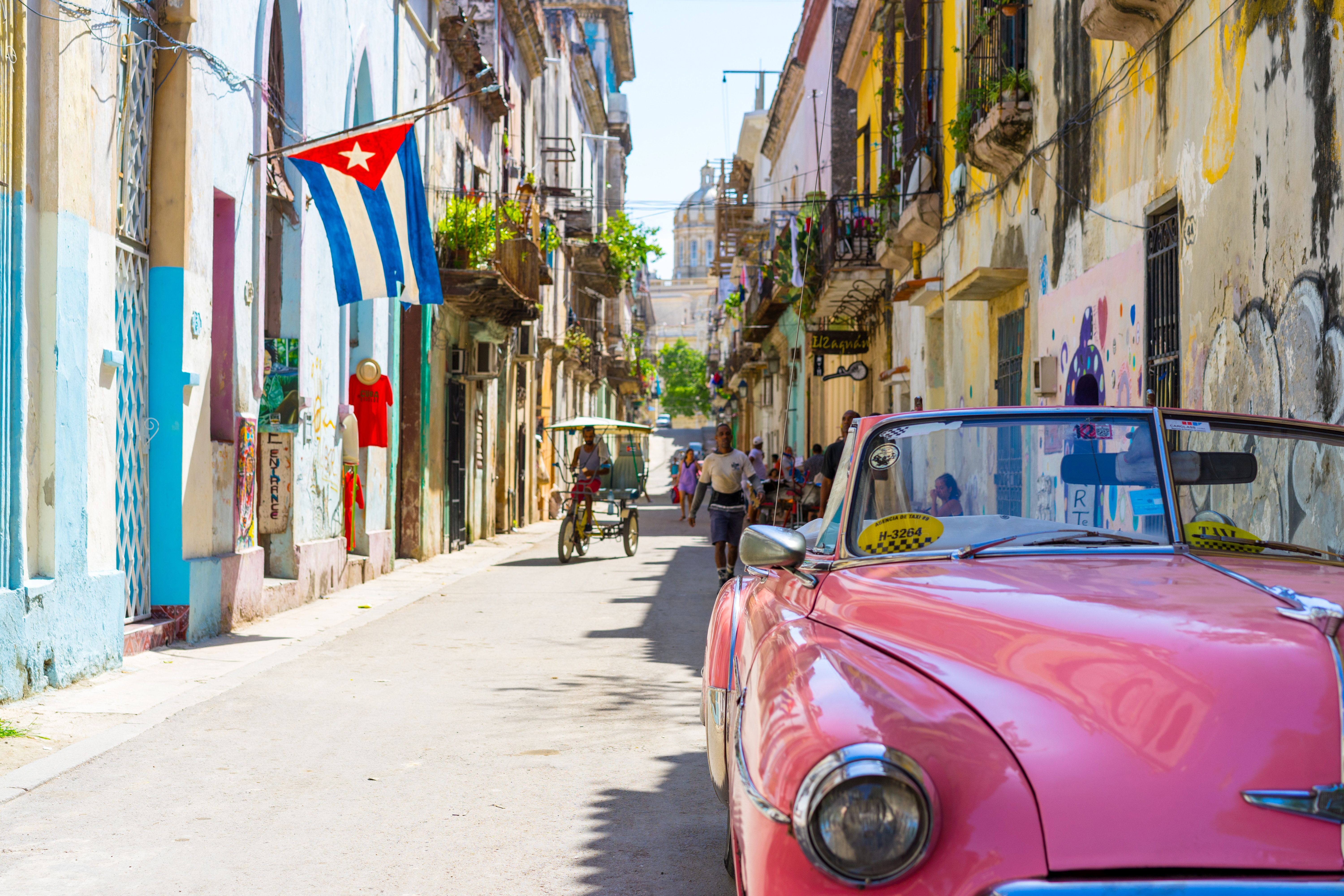 Havana, Cuba
Flight time from London Gatwick: 10 hours
Daily high: 26°C
Hours of sunshine: 7
Sea temperature: 25°C
The real beauty of this rich and colourful city lies in its mix of attractions, old and new. There's so much to do if you're feeling adventurous from taking in the sea air along the Malecón and climbing the lighthouse at El Morro Castle to eating cheesy peso pizzas and sipping frozen daiquiris.
Havana enjoys great weather at this time of year. Average daytime temperatures reach a warm and pleasant 26°C with low humidity. At night, you can expect a comfortable 17°C, cool enough to enjoy a peaceful night's sleep.
Even though the sea temperature is technically at its coldest, it's still thoroughly inviting and great for taking a dip or enjoying water sports.
With 11 hours of daylight, of which seven are likely to be sunny, Havana has everything you need for a perfect winter pick-me-up, not least some of the best rum on the planet.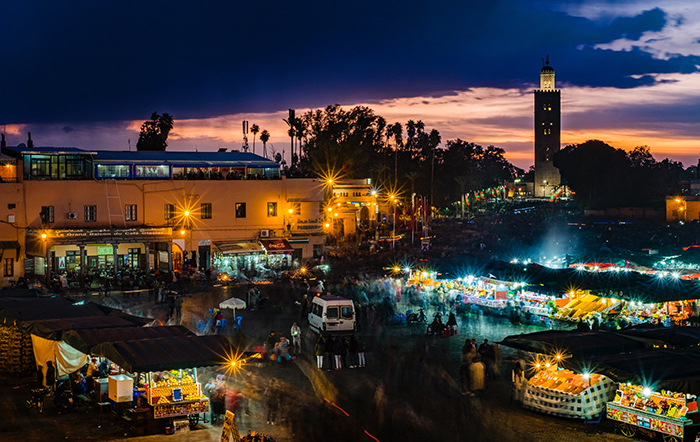 Marrakech, Morocco
Flight time from London Gatwick: 3 hours 40 minutes
Daily high: 20°C
Hours of sunshine: 7
Those of you looking for something a little different could try the walled medieval souks and alleyways of Marrakech. Closer to Gatwick than many other sunshine destinations, it still packs a punch at this time of year.
It's slightly warmer than the nearby Canary Islands, offering around seven hours of warm sunshine every day. Night times are cooler though, so pack a jumper. Temperatures drop to an average of 8°C overnight.
Given its location, Marrakech is for inland explorers, not beach lovers. Visit the medina for traditional textiles and pottery, head to the recently-opened YSL Museum, tour the ancient ramparts and marvel at the city's icon, the Koutoubia Mosque's 12th-century minaret. Of course, you could always venture to the Atlas Mountains or Ouzoud Falls for a trip from the city.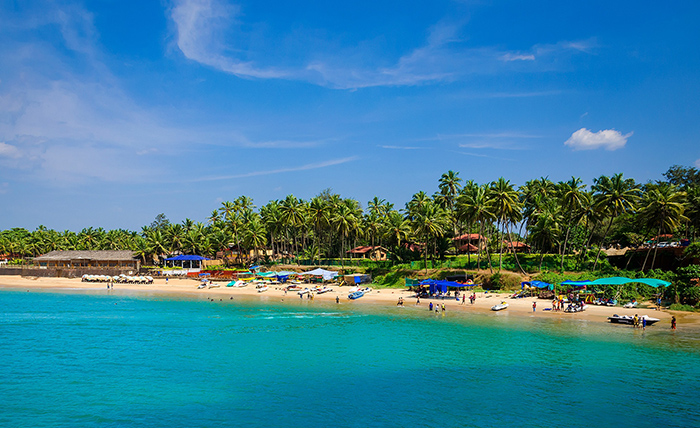 Goa, India
Flight time from London Gatwick: 9 hours 20 minutes
Daily high: 32°C
Hours of sunshine: 10
Sea temperature: 28°C
Dust off those transcendental remix cassettes and tie-dye those pyjamas: we're going old school.
Goa, the legendary nineties' ravers' paradise, is now a family-friendly beach destination with plenty of charming hotels and mile after mile of golden, sandy beaches. There's a Goa for everyone, with big, well-equipped resorts and nightclubs to the north, and more laidback, indy vibe along the shores to the south.
The weather here is really quite hot during our winter months. Average daytime temperatures reach 32°C, which is more than hot enough for basking on the water's edge, and the sea is a bath-like.
Come the evening, things cool down considerably but it's not too cold to sit around after dark in t-shirts and shorts, and not too hot at night. Thanks to the dry season, you can enjoy a comfortable night's sleep without air conditioning.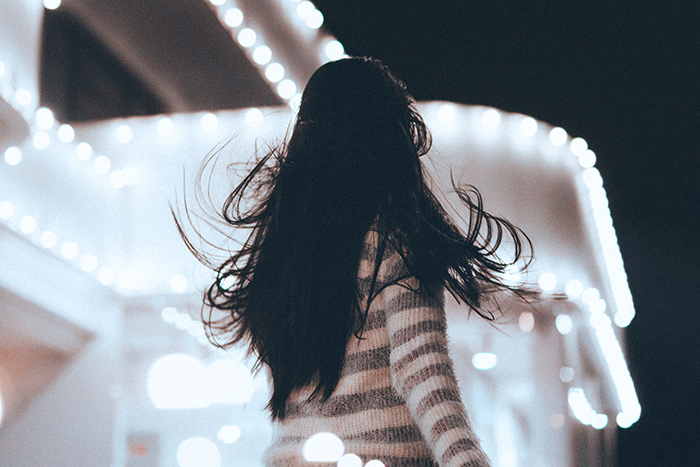 Lanzarote, Canary Islands
Flight time from London Gatwick: 4 hours
Daily high: 20°C
Hours of sunshine: 7
Sea temperature: 18°C
For minimum jetlag and maximum value, head south to this wonderful Spanish archipelago in the eastern Atlantic.
Each one offers something slightly different in terms of landscape and atmosphere. But whether you choose the moon-like landscape of Lanzarote or the upmarket resorts Tenerife, each island offers the very best weather found anywhere under five hours' flying time from the UK at this time of year.
In Lanzarote, for example, average daytime temperatures peak at around 20°C, with cool-but-not-cold evenings at 13°C.
Although there's lots of sunshine, at 18°C, the sea is unlikely to feel too inviting to those of you who don't spend their winters surfing in the West Country so adventure on it rather in it by going dolphin watching.
The Canary Islands offer some of the best weather in Europe at this time of year, without doubt.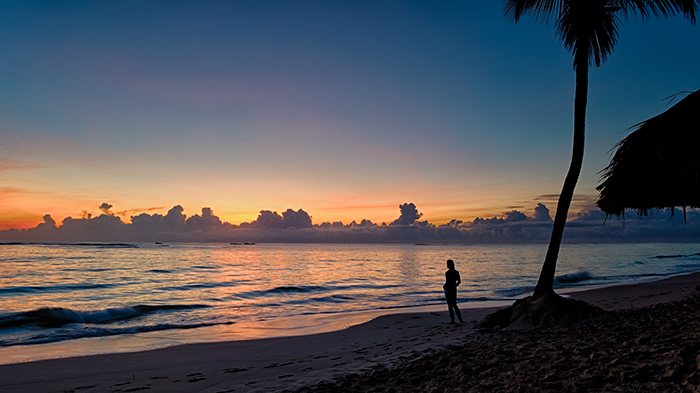 Punta Cana, Dominican Republic
Flight time from London Gatwick: 9 hours 15 minutes
Daily high: 28°C
Hours of sunshine: 9
Sea temperature: 26°C
Over the years, the Dominican Republic has become a firm favourite for those looking for an affordable family holiday in the Caribbean.
The warm waters and white sands found in the eastern resort of Punta Cana make it the perfect spot for a quiet beach holiday where you can while away the hours with a good book and a tube of sun cream.
The winter dry season is an ideal time to visit with sea temperatures a delightful 28°C, and moderate heat and humidity.
Once the sun sets, temperatures drop a touch making for pleasant evening conditions. Thanks again to the dry season, nights are cool enough to sleep without air conditioning even though most hotel rooms have it.
If you get bored of the beaches, head to the capital, Santo Domingo, for a glimpse of the island's colonial past, or check out the highlands including Pico Duarte, the Caribbean's highest mountain.
*All data shown is for February from Weather2Travel.com.
Sunshine Saturday Sale 2019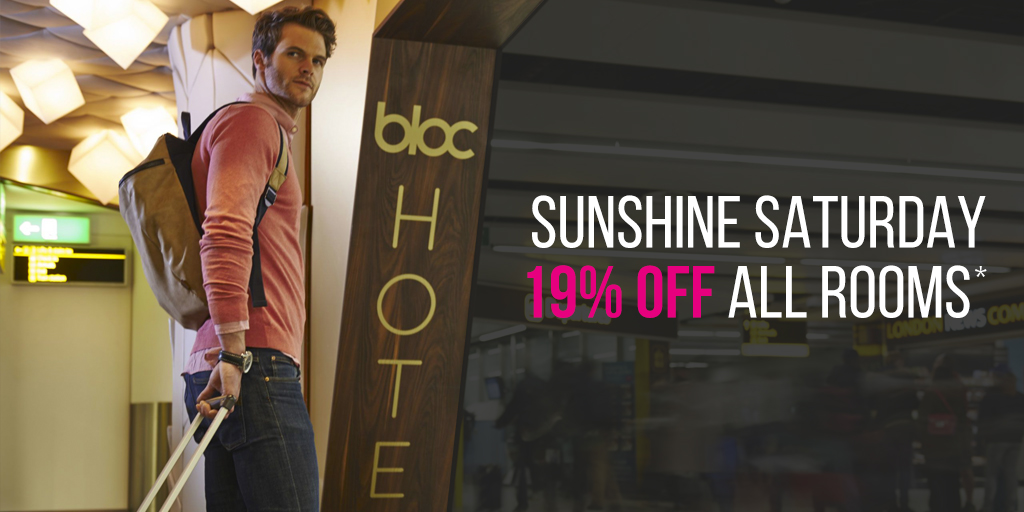 Sunshine Saturday is here and BLOC Hotels have the perfect gift to banish your winter blues.

Book now to access our cheapest rates for 2019. Plus, for 24 hours only, we'll give you an additional 19% off*.

Book your room before midnight on January 5th 2019, using our SUNBLOC19 promo code to secure this time-limited discount.
---
*Book before midnight on January 5, 2019, using our SUNBLOC19 discount code to secure the best rates at either property in the BLOC Hotel Group.

SUNBLOC19 Special Discount. Full payment is required at time of booking. Photo ID when checking in will be required.

CANCELLATION POLICY
Bookings made under this rate are amendable and refundable up until the day prior to arrival. Cancellations or amendments outside of this time are subject to cancellation or amendment fees. If booked with other extras, these may attract separate cancellation policies, please check your confirmation for additional information regarding these.