Book Now
Book direct and save at least 10% + other exclusive Bloc perks.
The green future of flying.
Tuesday, March 3, 2020
Last year, the global aviation industry contributed around 2% of all human-induced carbon CO2 emissions. Which may not sound like a lot, but in comparison, that's double the amount of emissions produced by the United Kingdom over the same period.
To combat these ever-increasing emissions, some passengers are taking matters into their own hands, embracing the Swedish notion of "flygskam" (flight shame).
According to people surveyed by Swiss bank UBS, one in five cut the number of flights they took in 2019 because of the impact it had on the climate. But this eco-conscious attitude to travel isn't seen around the world.
Demand for domestic flights is on the rise across developing countries; particularly in Brazil, Russia, India, and China, with U.S. airplane manufacturer Boeing projected to deliver 39,000 new aircraft over the next 20 years to meet demand.
Fortunately, the airline industry is trying to clean up its act.
The aviation's industry body (IATA) has set targets to reduce emissions by 50% before 2050. The British aviation industry has pledged to be carbon-neutral before then.
In 2019, easyJet became the world's first major airline to operate net-zero carbon flights across its entire network. But even EasyJet chief executive, Johan Lundgren, acknowledges that offsetting fuel emissions by planting trees is not a long-term solution.
Funding for greener fuel alternatives has accelerated. Some airlines are already started operating flights using a mixture of renewable fuels. Boeing estimates that biofuels, such as cooking oil and other alternatives, has the potential to reduce flight-related emissions by 60 to 80%.
Amsterdam-based SkyNRG is taking a more direct approach. In partnership with Rotterdam airport, this forward-thinking company is working on technology to capture harmful CO2 from the atmosphere and turn it back into jet fuel.
Others are hoping that electric or hybrid planes might be the answer. easyJet, in partnership with US-based Wright Electric, are working on 100% electric planes that they hope will begin servicing their short-haul routes by 2030.
In conclusion, as passengers continue to choose their mode of transport by environmental impact, rather than economic, rest assured that airlines will do what it takes to win over your conscience and custom.
Bloc Gatwick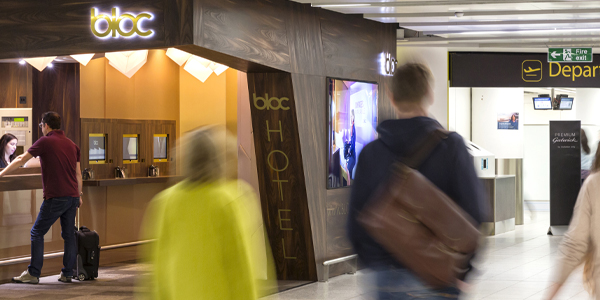 Bloc is a short-stay hotel designed to give you the very best of everything needed to sleep, shower and step out fresh into a new day, right in the heart of the action.
It's short-term staying designed around you. Lightspeed wifi, to keep you connected when you're on. High-powered showers, sound-proof walls and big, comfy beds for when you're not.
It's everything you need, and none of what you don't. No bells, no whistles, just pure rest and relaxation. And even better, it's right at the centre of the action, so you can step right out into it when morning comes, and step right back in when the day is done.
Book direct and save at least 10% + Free Premium Security.