Book Now
Book direct and save at least 10% + other exclusive Bloc perks.
Winter watching 2022.
Friday, December 2, 2022
As the nights draw in, we tend to spend more time inside watching the box. We've put together some of the biggest upcoming releases.
Let us know what you think of our picks and what you're watching on our social media channels using the hashtag #blocstreaming.
Glass Onion: A Knives Out Mystery.
Netflix. Dec 23rd.
You're invited to put the pieces together.
In the follow-up to Rian Johnson's Knives Out, famed Southern detective Benoit Blanc (played by Daniel Craig) travels to Greece to peel back the layers of a murder mystery involving a tech billionaire and his friends.
The all-star colourful cast of suspects include Edward Norton, Jessica Henwick, Ethan Hawke, Dave Bautista, Kathryn Hahn, and Kate Hudson.
National Treasure: Edge of History.
Disney +. Dec 14th.
A new treasure-hunting adventure.
With Edge of History, the National Treasure franchise gets a burst of new energy as 22-year-old dreamer Jess discovers that there are secrets linking her family to a hidden treasure. While she's looking for answers, the bad guys are looking for the gold and they won't stop until they get what they want.
Roald Dahl's Matilda The Musical.
Netflix. Dec 25th.
Meet the exception to the rules.
Having acquired the book rights last year, Netflix is all in on Roald Dahl, with Matilda being in development long before this deal was signed.
Matilda The Musical is an adaptation of the Tony and Olivier award-winning movie, directed by Matthew Warchus and music produced by Tim Minchin, with Emma Thompson manning the Chokey as Mrs Trunchbull.
Three Pines.
Amazon Prime Video. December 2nd.
Secrets, scandal, corruption: nothing is as picture-perfect as it seems.
Based on Louise Penny's best-selling novels and starring Alfred Molina as Chief Inspector Armand Gamache investigating murders in the seemingly idyllic village of Three Pines, Quebec.
He sees things that others do not: the light between the cracks, the mythic in the mundane, and discovers long-buried secrets and faces a few of his own ghosts.
White Noise.
Netflix. Dec 30th.
Hilarious and horrifying, lyrical and absurd, ordinary and apocalyptic.
Adapted from the 1985 novel of the same name, Adam Driver and Greta Gerwig star in this black comedy portraying a contemporary American family trying to deal with the mundane conflicts of everyday suburban life when a "Airborne Toxic Event" that forces them to evacuate their home.
Emancipation.
Apple TV+. Dec 9th.
An enslaved man who embarks on a perilous journey to reunite with his family. Inspired by the 1863 "Whipped Peter" photos taken during a Union Army medical examination, that ultimately contributed to growing public opposition to slavery.
Will Smith depicts the triumphant story of Peter, a man who escapes from slavery, relying on his wits, unwavering faith and deep love for his family to evade cold-blooded hunters and the unforgiving swaps of Louisiana on his quest for freedom.
Bloc Gatwick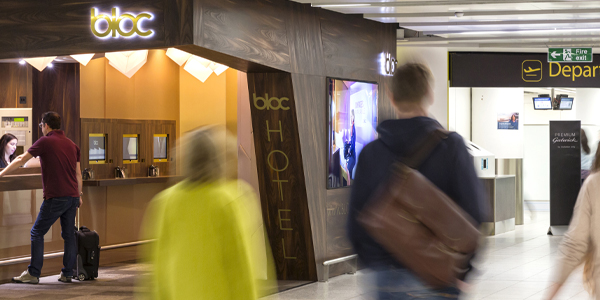 Bloc is a short-stay hotel designed to give you the very best of everything needed to sleep, shower and step out fresh into a new day, right in the heart of the action.
It's short-term staying designed around you. Lightspeed wifi, to keep you connected when you're on. High-powered showers, sound-proof walls and big, comfy beds for when you're not.
It's everything you need, and none of what you don't. No bells, no whistles, just pure rest and relaxation. And even better, it's right at the centre of the action, so you can step right out into it when morning comes, and step right back in when the day is done.
Book direct and save at least 10% + Free Premium Security.