Book Now
Book direct and save at least 10% + other exclusive Bloc perks.
The biggest shows coming to Birmingham's Utilitia Arena in 2023.
Monday, February 6, 2023
The Utilita Arena, previously known as the Barclaycard Arena, is one of Birmingham's largest indoor arenas.
Located in the city centre, and just a few minutes walk from Bloc Hotel Birmingham, the 17,000-person capacity venue hosts some of the city's biggest concerts and most action-packed sporting events.
If you're planning things to see and do this year, then we've compiled the ultimate guide to the biggest shows coming to the Utilita Arena in Birmingham for 2023.
PANIC! AT THE DISCO.
Saturday 4th March, 2023
HALLELUJAH - Panic! At The Disco are making their long overdue return to Birmingham.
VIVA LAS VENGEANCE shows a change in process for frontman/songwriter Brendon Urie, having cut everything live to tape in Los Angeles alongside his friends and production partners, Jake Sinclair and Mike Viola.
LIZZO.
Thursday 9th March, 2023.
American singer-songwriter Lizzo is coming to Birmingham!
The three-time GRAMMY Award-winning, RIAA multi-platinum certified artist has announced the European leg of The Special Tour in celebration of her latest album released in July.
TOM GRENNAN.
Friday 10th March, 2023.
Tom Grennan has announced details of his biggest UK tour to date, and first headline arena shows.
Beginning in March , the What Ifs & Maybes UK Tour is a landmark achievement for Grennan. An artist living his best creative life, a musician who knows he's completed writing the biggest, boldest, best set of songs of his shooting-star career.
YONEX ALL ENGLAND OPEN BADMINTON CHAMPIONSHIPS 2023.
Badminton England and the Championships returns to Utilita Arena Birmingham, bringing the best badminton players from around the world to compete in one of the oldest and most prestigious tournaments within the HSBC BWF World Tour.
The Championships will welcome fans back into the Arena to experience world-class action as the players showcase skill and speed in their effort to make history.
JIM JEFFERIES.
Wednesday 29th March 2023.
This Sydney native is one of the most popular and respected comedians of his generation, entertaining audiences across the globe with his provocative, belief-challenging, and thought-provoking comedy.
Jim's ninth stand-up special Intolerant came out on Netflix last year and he currently hosts his own podcast I Don't Know About That with Jim Jefferies.
2023 CAZOO PREMIER LEAGUE DARTS.
Thursday 6th April, 2023.
Premier League Darts will return to the Utilita Arena, Birmingham on April 6 as the biggest names in the sport bring the electric atmosphere to the Midlands.
The new season will retain the same Premier League format as introduced successfully in 2022, where the eight players compete each night in a knockout format before the top four players from the final league table progress to the Play-Offs.
PETER KAY.
April 2023 - December 2025.
One of Britain's best-loved comedians, Peter Kay, is finally returning to stand-up comedy after twelve years.
Peter's 2010 tour still officially ranks with the Guinness Book of World Records as the biggest-selling comedy tour of all time.
PARAMORE.
Saturday 22nd April, 2023.
Following a jubilant return to the road in the U.S - including stops at Austin City Limits and When We Were Young festivals - Paramore have announced a UK and Ireland tour for 2023, with special guest Bloc Party, in support of their highly anticipated sixth album This is Why.
This will be the band's first UK tour in over four years.
KEVIN HART.
Monday 24th April, 2023.
Emmy & Grammy nominated Kevin Hart was born and raised in Philadelphia, Pennsylvania where he launched his career as a comedian during an amateur night at a local comedy club.
Over the years Hart has become Hollywood's box office powerhouse, opening eleven films at number one at the box office and grossing more than in $4.23 billion global revenue.
WWE LIVE.
Wednesday 26th April, 2023.
WWE Live returns to Birmingham. See your favorite WWE Superstars live in action including, Bobby Lashley, Seth "Freakin" Rollins, Matt Riddle, Kevin Owens, AJ Styles, Finn Balor, Bianca Belair and Bayley plus many more!
Bringing together a unique blend of sport and entertainment, combining in-ring match action with all the drama and energy of a rock concert, WWE Live is the ultimate in family entertainment!
ROB BECKETT & JOSH WIDDICOMBE'S PARENTING HELL LIVE.
Friday 28th April, 2023.
Rob Beckett & Josh Widdicombe's Parenting Hell Live bring their amazing podcast to Birmingham!
Building on the success of their hilariously candid podcast Parenting Hell, revealing the highs and lows of being a parent, comedians Rob Beckett and Josh Widdicombe have announced a live version.
THE ORIGINAL HARLEM GLOBETROTTERS.
Saturday 29th April, 2023.
The Harlem Globetrotters 2023 World Tour is coming with game like never before! Your favourite Globetrotter stars are bringing out their amazing basketball skills, outrageous athleticism and a non-stop LOL good time.
Join the Globetrotters as they go head-to-head against the Washington Generals who will stop at nothing to try and defeat the world's winningest team!
DURAN DURAN.
Friday 5th May, 2023.
Duran Duran celebrated a landmark year, with the band being inducted into the Rock & Roll Hall Of Fame, headlining London's Hyde Park, performing at the Queen's Platinum Jubilee Concert at Buckingham Palace, closing the opening ceremony and much more.
Today, the celebrations continue as Duran Duran announces the FUTURE PAST tour will extend with five huge headline arena shows across the UK and Ireland through Spring of 2023.
TOM SEGURA.
Friday 12th May, 2023.
Actor/Comedian/Writer Tom Segura is one of the biggest names in the comedy business. He is best known for his Netflix specials Ball Hog (2020), Disgraceful (2018), Mostly Stories (2016), and Completely Normal (2014).
In July 2022, Segura released his New York Times Bestselling book I'D LIKE TO PLAY ALONE, PLEASE to wide praise.
JOE BONAMASSA.
Saturday 14th May, 2023.
Celebrated and award-winning blues rock guitarist and singer-songwriter, Joe Bonamassa is pleased to announce five UK arena concerts in May 2023.
The 2023 UK tour will see Bonamassa performing songs from his 15th solo studio album "Time Clocks," his Grammy Award-nominated studio album "Royal Tea," plus classic tracks from his rich treasure trove back catalogue including the albums "Redemption", "Blues of Desperation" and "The Ballad of John Henry", plus many more Bonamassa fan favourites.
ROGER WATERS.
Wednesday 31st May, 2023.
Roger Waters will play 40 shows across 14 European countries. The show features 20 Pink Floyd and Roger Waters classic songs, including: "Us & Them", "Comfortably Numb", "Wish You Were Here", and "Is This The Life We Really Want?". In addition, Waters debuts a new song, "The Bar".
Waters on lead vocals, guitars, bass and piano, will be joined on stage by, Jonathan Wilson on guitars and vocals; Dave Kilminster on guitars and vocals; Jon Carin on keyboards, guitar and vocals, Gus Seyffert on bass and vocals; Robert Walter on keyboards, Joey Waronker on drums; Shanay Johnson on vocals; Amanda Belair on vocals and Seamus Blake on saxophone.
ELTON JOHN.
10th - 11th June + 8th June, 2023.
The show takes the audience on a magical journey through his incredible 50-year career with never-before-seen-photos and videos, all set to the tune of some of Elton's most beloved songs from his legendary catalogue including, "Bennie and the Jets," "Rocket Man," "Tiny Dancer," and "Philadelphia Freedom."
Word on the street is he is on fire EVERY NIGHT and we can't wait for Elton to say farewell to Birmingham, but we know it'll be worth the wait!
PETER GABRIEL.
Saturday 17th June, 2023.
The tour marks his first solo shows outside of North America since 2014's Back to Front Tour celebrating the era-defining album So.
i/o - the tour will see Gabriel playing new material from his forthcoming album i/o, as well as delving into his peerless catalogue of music, with hits, fan favourites and the unexpected. For the shows, Gabriel will be joined by regular band-mates Tony Levin, David Rhodes and Manu Katch&eacute.
THE CHICKS.
Sunday 2nd July, 2023.
Fresh off the heels of their massively successful U.S. tour last summer, the 13-time GRAMMY award-winning, multi-platinum selling global superstars, The Chicks return to the global stage with The Chicks 2023 World Tour.
IRON MAIDEN.
Tuesday 4th July, 2023.
Iron Maiden will be bringing a new tour to Europe in the Summer of 2023 including arena shows in the UK & Ireland.
The Future Past Tour will feature previously unperformed songs from the band's most recent studio album, Senjutsu, along with a focus on 1986's iconic Somewhere In Time record, plus other classic cuts.
DEACON BLUE.
Wednesday 20th September, 2023.
Thirty-five years since their debut single, Dignity, and millions of record sales since, Deacon Blue are digging out all their old 45s - the Top 10s, the favourites, the sing-a-long rarities - and touring the UK & Ireland in September / October 2023.
The band have always thrived onstage, but they've never played gigs quite like this: they'll perform two sets, with no support. The first half will be an intimate acoustic show, and then they'll go electric for a raucous trip across their hits.
SHANIA TWAIN.
Tuesday 26th September, 2023.
Rumours of a new tour began circulating on the internet and fans were delighted to hear that Shania will embark on the Queen of Me Tour ****across the UK and Ireland. The tour marks the first time fans will get to see the queen in all of her glory in nearly five years.
The Queen of Me Tour kicks off on Saturday September 16th at London's O2 Arena, and stops in Dublin, Glasgow and Manchester before wrapping up in Birmingham for the final night in the UK.
BLINK-182.
Saturday 14th October, 2023.
Multi-platinum, award winning group blink-182 ****have announced their biggest tour ever, a colossal global outing with Mark Hoppus, Tom DeLonge and Travis Barker reuniting for the first time in nearly 10 years.
S CLUB 7.
Thursday 26th October, 2023.
After months of speculation, S Club 7, one of the most successful British pop groups of all time, have announced they are returning for a reunion tour in celebration of their 25-year legacy.
With 4 multi-platinum selling albums, 2 BRIT Awards, and 9 number-one international hit singles to their name, S Club 7 are a household name that are once again ready to rise.
FALL OUT BOY.
Tuesday 31 October, 2023.
Following the wildly successful launch of their US stadium and amphitheatre tour, including multiple stadium shows in Los Angeles, GRAMMY Award-nominated and multi-platinum selling rock band Fall Out Boy announce the European dates on their headline tour So Much For (Tour) Dust.
PETE TONG PRESENTS IBIZA CLASSICS.
Thursday 30th November, 2023.
Revered DJ, broadcaster and global dance music legend, Pete Tong has today announced the return of Ibiza Classics with a brand-new show for November 2023
Inventively bold, Ibiza Classics has showcased incredible reimaginations of classic house tracks from 'Love Can't Turn Around', Right Here Right Now' to 'Free' and 'Unfinished Sympathy' to create an unforgettable night, reminiscent of the White Isle and it's musical history.
MO GILLIGAN + FRIENDS.
Thursday 7th December, 2023.
Following two sold-out shows at The O2 in successive years, triple BAFTA winning British comedian Mo Gilligan ****is taking The Black British Takeover on tour.
With Eddie Kadi returning as host, the tour will include the very best in headline names and emerging artists from the Black British Comedy Circuit.
SH**GED, MARRIED, ANNOYED.
Wednesday 13th December, 2023.
Following the staggering success of their #1 hit podcast – with over 100 million downloads , a sell-out Guinness World Record breaking 2020 arena tour, a brand-new prime-time BBC chat show 'The Chris and Rosie Ramsey Show', and a Sunday Time's Best Selling Book, Chris and Rosie will be bringing a brand new live show to arenas nationwide in autumn 2023.
LEONA LEWIS.
Thursday 14th December, 2023.
Singing sensation Leona Lewis has announced a major homecoming UK arena tour for Christmas 2022, playing festive classics and greatest hits from her rereleased bestseller, Christmas, With Love.
It just wouldn't be Christmas without Leona Lewis. Best known for its lead single 'One More Sleep', 2013's Christmas, With Love has been the soundtrack to our holidays ever since it was first released – helping Lewis break the record for the most Top 5 hits for a British female solo artist.
Bloc Jewellery Quarter.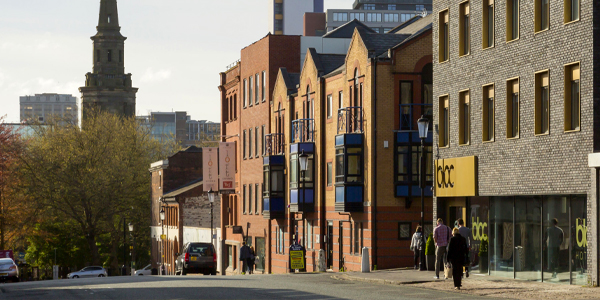 Bloc is a short-stay hotel designed to give you the very best of everything needed to sleep, shower and step out fresh into a new day, right in the heart of the action.
It's short-term staying designed around you. Lightspeed wifi, to keep you connected when you're on. High-powered showers, sound-proof walls and big, comfy beds for when you're not.
It's everything you need, and none of what you don't. No bells, no whistles, just pure rest and relaxation. And even better, it's right at the centre of the action, so you can step right out into it when morning comes, and step right back in when the day is done.
Book direct and save at least 10% + Free Late Check-out.