Book Now
Book direct and save at least 10% + other exclusive Bloc perks.
When is the best time to book a flight for the lowest price?
Wednesday, January 25, 2023
Booking a flight at the right time can make a big difference in the cost of your ticket, especially for people traveling from the UK.
With the right timing, you can save hundreds of pounds on your next trip.
In 2023, there are a few key factors to consider when trying to find the best time to book a cheap flight from the UK.
One of the most important factors to consider is the seasonality of travel. According to data from the past years, the peak travel season for UK-based travelers is during the summer months of June to August, as well as around major holidays like Christmas and New Year's.
During these times, demand for flights is high, and so are ticket prices. To save money, try booking your flight for shoulder seasons, such as autumn or spring, when demand is lower and prices are more reasonable.
Another important factor to consider is the day of the week. According to data, Tuesdays and Wednesdays tend to be the best days to book a flight from the UK, as airlines tend to release their cheapest fares on these days. On the other hand, weekends tend to be the worst days to book, as prices tend to be higher.
Additionally, it's important to consider the destination you are traveling to. For example, if you are planning to travel to Europe, it's best to book your flight at least three months in advance, while for long-haul destinations such as the US or Asia, it's best to book your flight at least six months in advance.
Furthermore, data suggests that booking your flight in the early morning hours (between midnight and 6 am) is more likely to result in cheaper fares.
Our analysis also shows that booking an early morning flight (departing before 9 am) can also save you money, as the demand for these flights is generally lower than for daytime flights.
Looking to book an airport hotel inside Gatwick Airport?
In conclusion, based on data, the best time to book your next flight from the UK in 2023 is during shoulder seasons, on Tuesdays and Wednesdays, at least three to six months in advance of your trip, avoiding key popular travel dates, booking in the early morning hours and early morning flights.
By considering these factors, you could save a significant amount on your flight fare.
Bloc Gatwick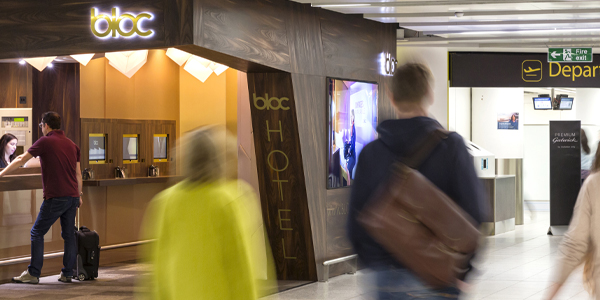 Bloc is a short-stay hotel designed to give you the very best of everything needed to sleep, shower and step out fresh into a new day, right in the heart of the action.
It's short-term staying designed around you. Lightspeed wifi, to keep you connected when you're on. High-powered showers, sound-proof walls and big, comfy beds for when you're not.
It's everything you need, and none of what you don't. No bells, no whistles, just pure rest and relaxation. And even better, it's right at the centre of the action, so you can step right out into it when morning comes, and step right back in when the day is done.
Book direct and save at least 10% + Free Premium Security.