Book Now
Book direct and save at least 10% + other exclusive Bloc perks.
Why Bloc Hotel is the perfect choice for couples visiting Birmingham.
Monday, April 17, 2023
Birmingham, the second-largest city in the UK, is a vibrant and exciting destination for couples looking to explore a new city. With its rich history, world-class museums, trendy restaurants, and stylish bars, there's plenty to see and do in Birmingham.
But where should couples stay during their visit? The answer is simple: Bloc Hotels. In this article, we'll explore why Bloc Hotels is the perfect choice for couples visiting Birmingham.
Prime Location: Bloc Hotels is located in the heart of Birmingham's trendy Jewellery Quarter, which is home to some of the city's best restaurants, bars, and shops.

It's also within walking distance of popular attractions such as the Utilita Arena, Birmingham Museum and Art Gallery and the Bullring.


Comfortable and Stylish Rooms: Our comfortable and stylish rooms are the perfect place to relax after a busy day exploring the city. With soundproofed rooms, guests can enjoy a peaceful and quiet stay without any disturbances.

Our minimalist aesthetic creates a sleek and modern atmosphere that's perfect for couples looking for a romantic escape, from our compact Sleeps to our spacious Apartments.


Affordable Pricing: We understand that travelling can be expensive, which is why we offer affordable pricing without compromising on quality. Our rooms are priced to offer affordability to budget-conscious travellers.

Despite the low cost, we don't skimp on quality. Our rooms are clean, comfortable, and equipped with everything guests need for a pleasant stay.


Exclusive Local Discounts: Enjoy the best Birmingham has to offer, for less, with our exclusive Bloc guest discounts at our favourite local shops, cafes, restaurants and bars.

From 10% discount at the Michelin star restaurant Opheem, free entry to The Jam House, or half-price darts at the 180 Club.


Romantic Setting: The Jewellery Quarter's cobbled streets, quaint shops, and cosy pubs make it the perfect romantic setting for couples.

Our hotel's central location in the quarter provides the ideal starting point for couples to explore the area and create lasting memories.


Professional and Friendly Staff: Our staff are committed to providing the best possible service to our guests. Whether you need assistance with your luggage or recommendations for local attractions, our team is always happy to help.
In conclusion, Bloc Hotels is the perfect choice for couples visiting Birmingham. With our prime location, comfortable and stylish rooms, and affordable pricing, we offer everything couples need for a romantic getaway.
So why wait? Book your stay with Bloc Hotels today and discover the romance of the Jewellery Quarter for yourself. Book direct and you'll also enjoy our lowest rates, plus free early check-in and free late check-out.
Bloc Jewellery Quarter.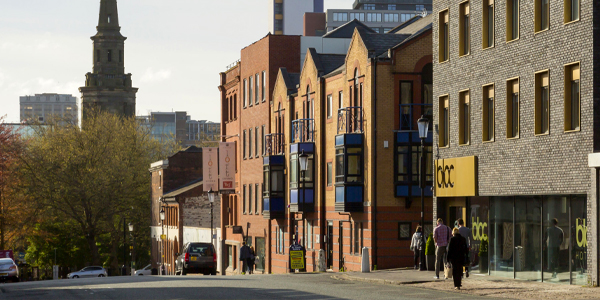 Bloc is a short-stay hotel designed to give you the very best of everything needed to sleep, shower and step out fresh into a new day, right in the heart of the action.
It's short-term staying designed around you. Lightspeed wifi, to keep you connected when you're on. High-powered showers, sound-proof walls and big, comfy beds for when you're not.
It's everything you need, and none of what you don't. No bells, no whistles, just pure rest and relaxation. And even better, it's right at the centre of the action, so you can step right out into it when morning comes, and step right back in when the day is done.
Book direct and save at least 10% + Free Late Check-out.